The 94 Pounds of Bacon Giveaway
Rock 94.7 teamed up with Nueske's to give away 94 pounds of the meat candy known as bacon!
What You'll Win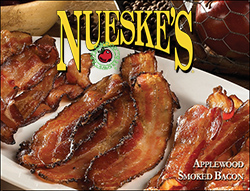 This fall, Rock 94.7 has once again teamed up with Nueske's Applewood Smoked Meats to give away the pinnacle of cured meats… BACON… and a lot of it!
It's the return of Rock 94.7's 94 lbs. of Bacon giveaway!
How to Win Your Meat Candy
Listen every workday (Monday-Friday from 9am-5pm) for our CUE TO TEXT. If you're the 94th texter, you'll instantly win 2 pounds of delicious meat candy. You will also get qualified for the grand prize... a year's worth of bacon! One pound of bacon a week for a year!