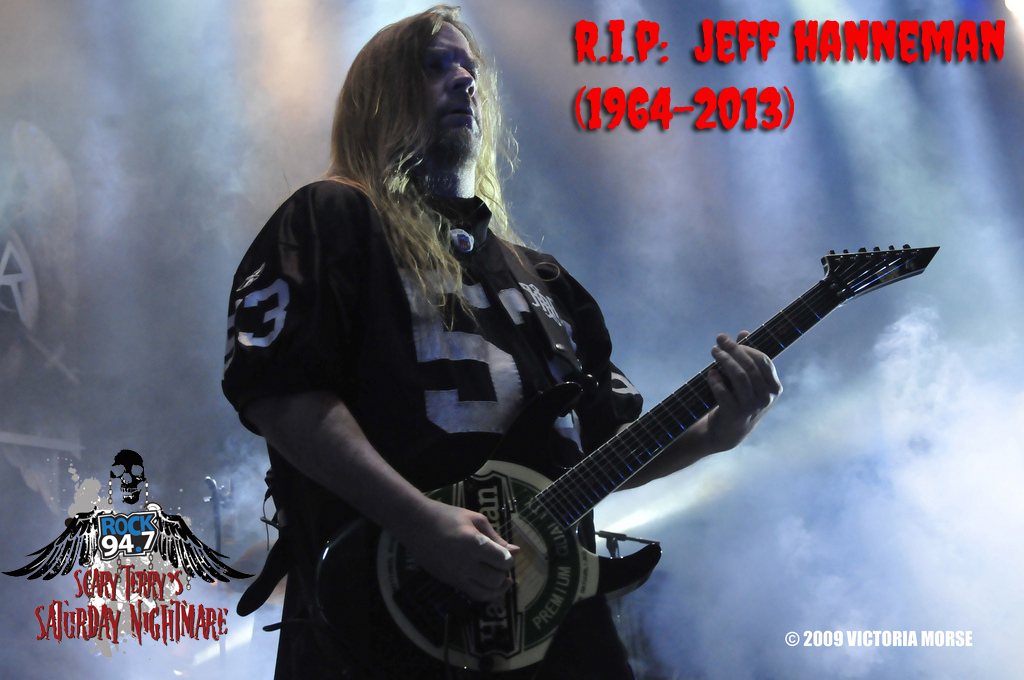 PHOTO BY VICTORIA MORSE, REMIXED AND USED UNDER CREATIVE COMMONS LICENSE
Slayer reported the following on their Facebook page:
---
Slayer is devastated to inform that their bandmate and brother, Jeff Hanneman, passed away at about 11AM this morning near his Southern California home. Hanneman was in an area hospital when he suffered liver failure. He is survived by his wife Kathy, his sister Kathy and his brothers Michael and Larry, and will be sorely missed.

Our Brother Jeff Hanneman, May He Rest In Peace (1964 - 2013)
---
This news does come as a shock. Hanneman had been inactive with the band since early 2011 after a spider bite caused him to develop necrotizing fasciitis in his hand, leaving him unable to play. However, there had been no indication from anyone in the Slayer camp that his health had deteriorated any further.
Kerry King had mentioned in a recent interview that he would be okay with Hanneman's fill-in, Exodus guitarist Gary Holt, staying on with the band. Whether King was aware of the extent of Hanneman's health issues at the time of the interview is unknown.
If you're a fan of the more aggressive, thrashier side of metal, your favorite bands owe a debt of gratitude to Hanneman.
One of the greatest metal concerts I ever attended was Slayer and Testament at the Cincinnati Gardens. It was on the Season in the Abyss tour, and it was magnificent.
This Saturday on Scary Terry's Saturday Nightmare, we go all-Slayer from 9pm to Midnight on Rock 94.7/102.9, online at www.rock947.com/listen-live or on your Android or Apple device when you download the Rock 94.7 app.
R.I.P., Jeff.
~Scary FN Terry