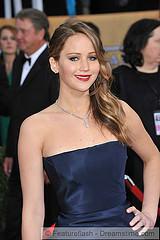 The chief hacker who got his hands on nude pictures of actresses including Jennifer Lawrence and Kate Upton has gone on the run.
The anonymous hacker dumped dozens of naked photographs of female celebrities onto the 4chan online forum. The FBI is now on an international hunt for the hacker.
The hacker, who people are calling the 'original guy', basically confirmed that the hacking involved more than just one individual and was 'the result of several months of long and hard work'.
One in particular bragged that he was 'ripping iclouds' - which is allegedly how the pictures were stolen.
Some are saying that a flaw in the 'Find My iPhone' function of Apple's iCloud service may have helped the hackers steal the nude photos of Jennifer Lawrence, Kate Upton, and Rihanna.
A list of the celebrities who were hacked which is apparently 101 in total - has also been posted on Internet message board 4chan.
A spokesperson for Jennifer Lawrence blasted the hackers for their "flagrant violation of privacy."
"The authorities have been contacted and will prosecute anyone who posts the stolen photos of Jennifer Lawrence."
Kate Upton's lawyer said: "This is obviously an outrageous violation of our client Kate Upton's privacy. We intend to pursue anyone disseminating or duplicating these illegally obtained images to the fullest extent possible."
Victoria Justice denied the photos going around claiming to be her are authentic, writing on Twitter, " These so called nudes of me are FAKE people. Let me nip this in the bud right now. *pun intended*"
Mary Elizabeth Winstead, also part of the leak, confirmed the photos of her were real, writing, "Knowing those photos were deleted long ago, I can only imagine the creepy effort that went into this. Feeling for everyone who got hacked. To those of you looking at photos I took with my husband years ago in the privacy of our home, hope you feel great about yourselves."
Whether you agree or don't agree with someone taking nude pictures of themselves, I think we can all agree that this is a blatant violation of privacy and legal action needs to be taken. This celebrities didn't share their photos with anyone else, they simply backed them up using something we've all assumed was safe and private.
Do you backup on the cloud?
~BS and Vanessa