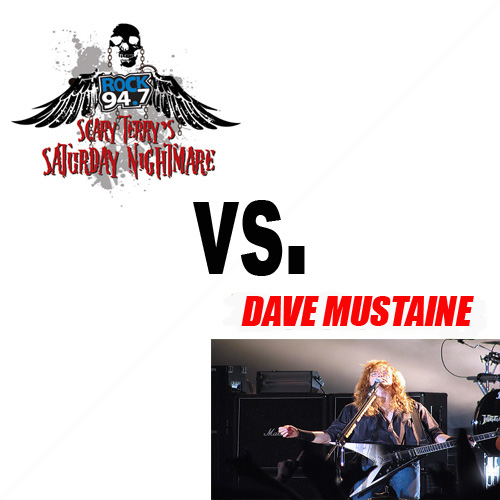 I spent the last week "Up North" in a remote location. No TV, no internet, no cell phone access. Sorry for being late to the party on this.
The first words out of Lunchbox's mouth when I got back from vacation were "Dude, did you hear what Dave Mustaine said?"
No I hadn't, but once I did, well...
Why don't you be the judge?
---
During a recent show in Singapore...Mustaine took to the mic from the stage to discuss his beliefs about some of the recent gun violence in America.
"Back in my country, my president is trying to pass a gun ban so he's staging all of these murders. The 'Fast and Furious' thing down at the border. And Aurora, Colorado, all the people that were killed there. And now, the beautiful people at the Sikh temple."
---
You can read the rest of what Mustaine said here in the Huffington Post.
I'm not here to critcize Mustaine's political leanings. I remember him covering the Democratic National convention for MTV years ago just as vividly as I remember him supporting Republican candidates a few weeks ago.
But straight up maligning the leader of our country in front of a foreign audience, accusing him of executing innocent civilians? That shiat, I'm going to criticize.
Maybe Mustaine's doing this for publicity. Maybe TH1RT3EN hasn't done as well sales-wise as he hoped and he's gunning for a boost from the "Obama is a Kenyan-born Muslim/Marxist who wants to convert America to Shiara Law/Communism" crowd. I don't know.
Spouting a bald-faced lie about our president on foreign soil is one hell of a way to bump record sales, that's for sure. If it's a publicity stunt, it's an ill-advised one at best.
I love Mustaine's work. He's a founding member of Metallica. Dave IS Megadeth. Not many guys can say they were in 2 of the Big 4 Bands of Metal. Killing Is My Business, Peace Sells, So Far So Good So What, Rust In Peace, and Countdown to Extinction still rank amongst the best metal ever put to record.
Over the years, Mustaine has inspired thousands, nay millions, of metalheads to stand up, question authority, and call out bullshiat when it spews from the mouths of those who would see humanity shackled by hate, ignorance and greed.
Dave, as a fan I'm calling bullshiat. You lied in front of your fans in Singapore. Publicity stunt or not, you're in the wrong here.
As a fellow father, I'm going to ask, if your son or daughter pulled something like this, what would you advise them to do?
Do that. Do the right thing (assuming you don't believe spreading completely unfounded conspiracy theories to be the right thing.)
Be Metal,
\m/ ST \m/