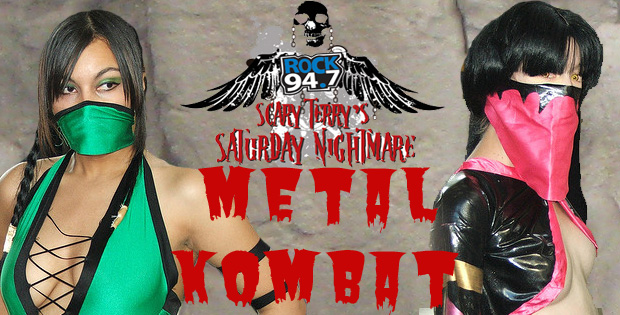 Welcome to Rock 94.7's METAL KOMBAT! Here's how it works:
1) Each weeknight at 6pm, "Scary" Terry Stevens will play 2 songs.
2) Then, you'll have until Midnight to text METAL1 or METAL2 to 39327 to vote for your favorite song. You can also vote online in the widget at the bottom of this post.
3) The song with the most votes moves on to the next night.
4) The loser experiences the dreaded FATALITY!
5) If a song wins 5 nights in a row, it moves on to the METAL KOMBAT Vallhalla Fame!
On Thursday night's METAL KOMBAT Bobaflex's "The Sound of Silence" took on All That Remains' "Down Through the Ages".
And the winner is...
Bobaflex - "The Sound of Silence"

Bobaflex wins their 3rd night in a row! Can they win a 4th?
A NEW CHALLENGER ENTERS THE ARENA!
In This Moment - "Whore"

Text METAL1 for Bobaflex or METAL2 for In This Moment to 39327!
You can also vote here:
We'll reveal the winner tomorrow night at 6pm!
Be Cool,
ST