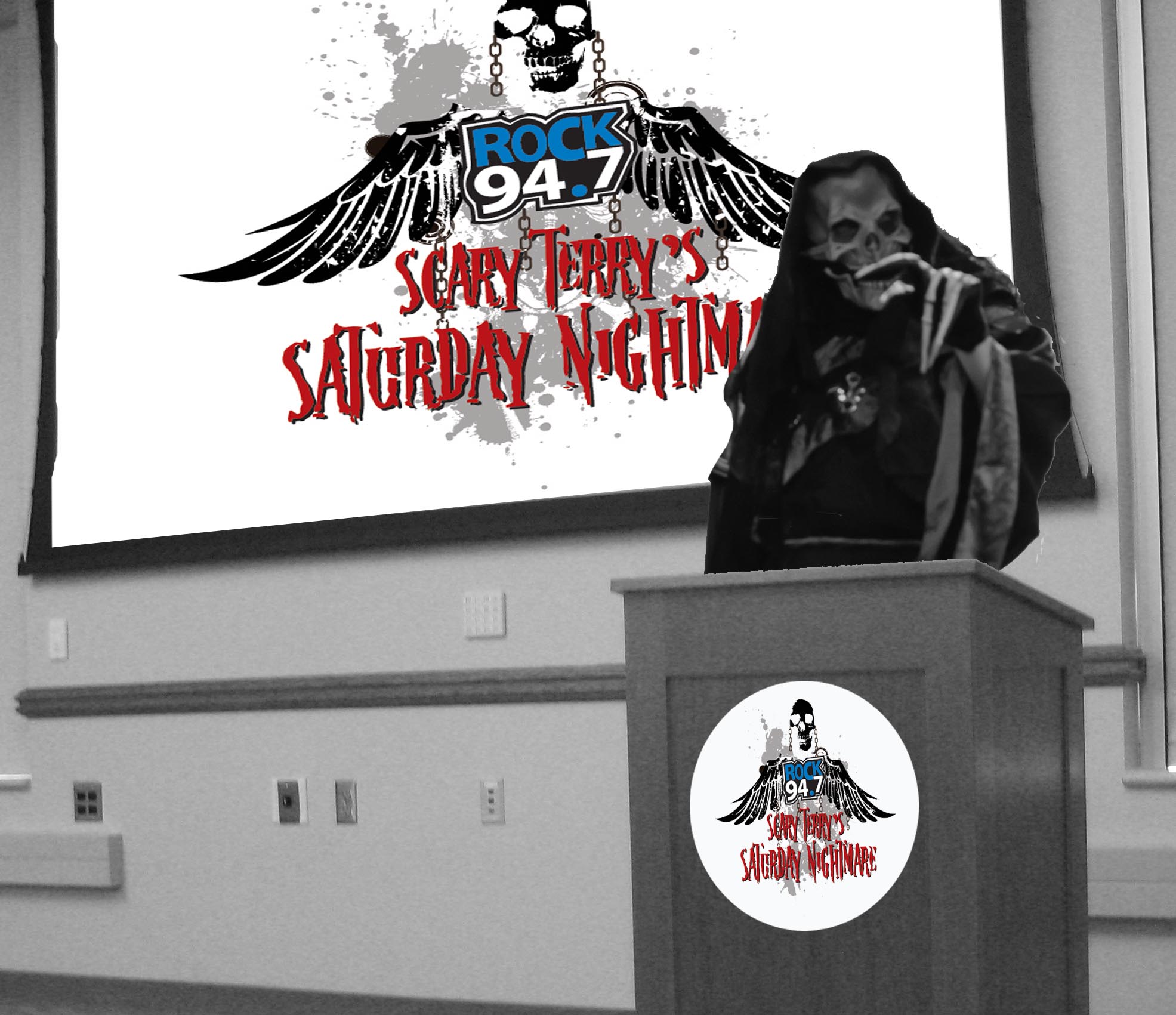 IN METAL WE TRUST!

On September 10th, 2011, Rock 94.7 launched a brand new show: Scary Terry's Saturday Nightmare.
I'm Terry Stevens, the host of that show. On this first anniversary of the Nightmare, I present The State of the Show Address. We're going to look at where we started, where we went, what we learned along the way, and where we're going next.
Back in the day, I used to watch Headbanger's Ball on MTV, first hosted by Adam Curry, then by Rikki Rachtman. I'd wait patiently through the big hair/glam band videos for the small doses of thrash, death, and more aggressive styles of metal. I discovered a few of my favorite bands that way, Pantera, Napalm Death, Biohazard, to name a few.
Then one night I discovered a metal show on a college/public radio station. Musically, it was the polar opposite of Headbanger's Ball. Every once in a while the host would play a glammish band, but by and large it focused on the more aggressive side of metal. I couldn't even begin to tell you how many bands I was turned on to thanks to that show. It was a metalhead's metal show, not the fashion statement that MTV put on and then discarded when grunge swept the earth.
I thought to myself, "Man, if I hosted a metal show, that's exactly what I would do."
Flash forward a couple decades later, and I'm actually in radio. After paying my dues in Country/Oldies/Greatest Hits of the 70s/80s/90s radio stations for over a decade, I finally got a shot to be on a rock station, Rock 94.7. I pitched the idea of a metal show to the guy programming the station at the time. I also pitched the name "Scary Terry's Saturday Nightmare" as a joke. He laughed it off.
A few months later, that guy was released into the wild, and Lunchbox took the reigns of the station.
One day, he comes to my desk and asks (and I'm paraphrasing here), "How would you feel about a metal show on this station?" I'm pretty sure you can guess my response to that question. Once again, I pitched the name "Scary Terry's Saturday Nightmare." This time it stuck.
We assembled a music library that was made up of 50% of an old database of Metal songs from one of our sister stations in Michigan. The other 50% was from my personal collection. I've been a voracious consumer of music over the years, buying hundreds of CD and downloadable songs.
Here's a link to the first playlist.
As you can see, when we started, we had a pretty rough logo that I slapped together in MS Paint: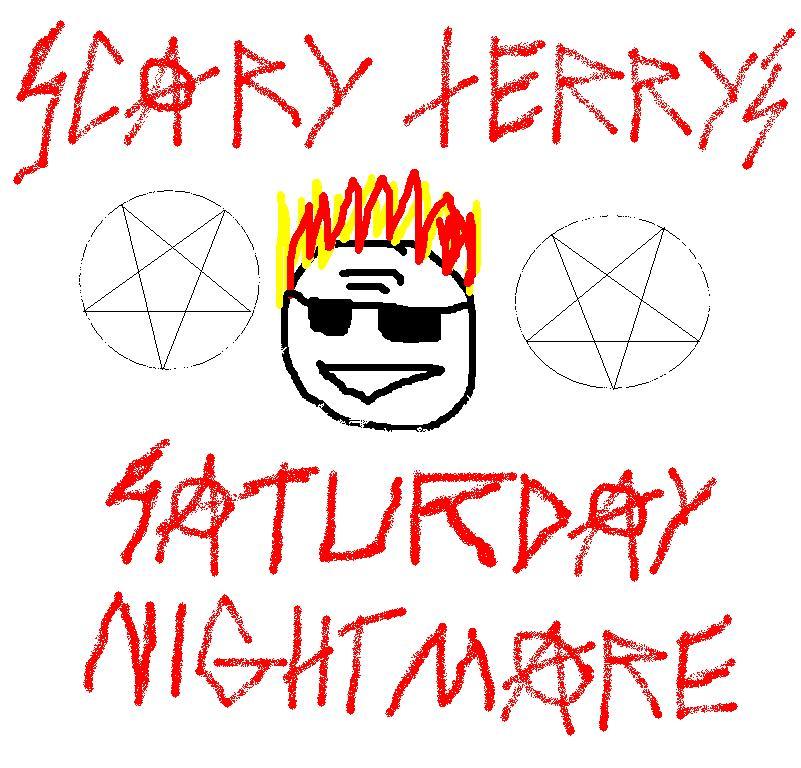 Somewhere, a graphic designer is vomiting at the sight of this...
Thankfully, after seeing the crappy logo I put together, a couple of Nightmare listeners put some sharper ones together: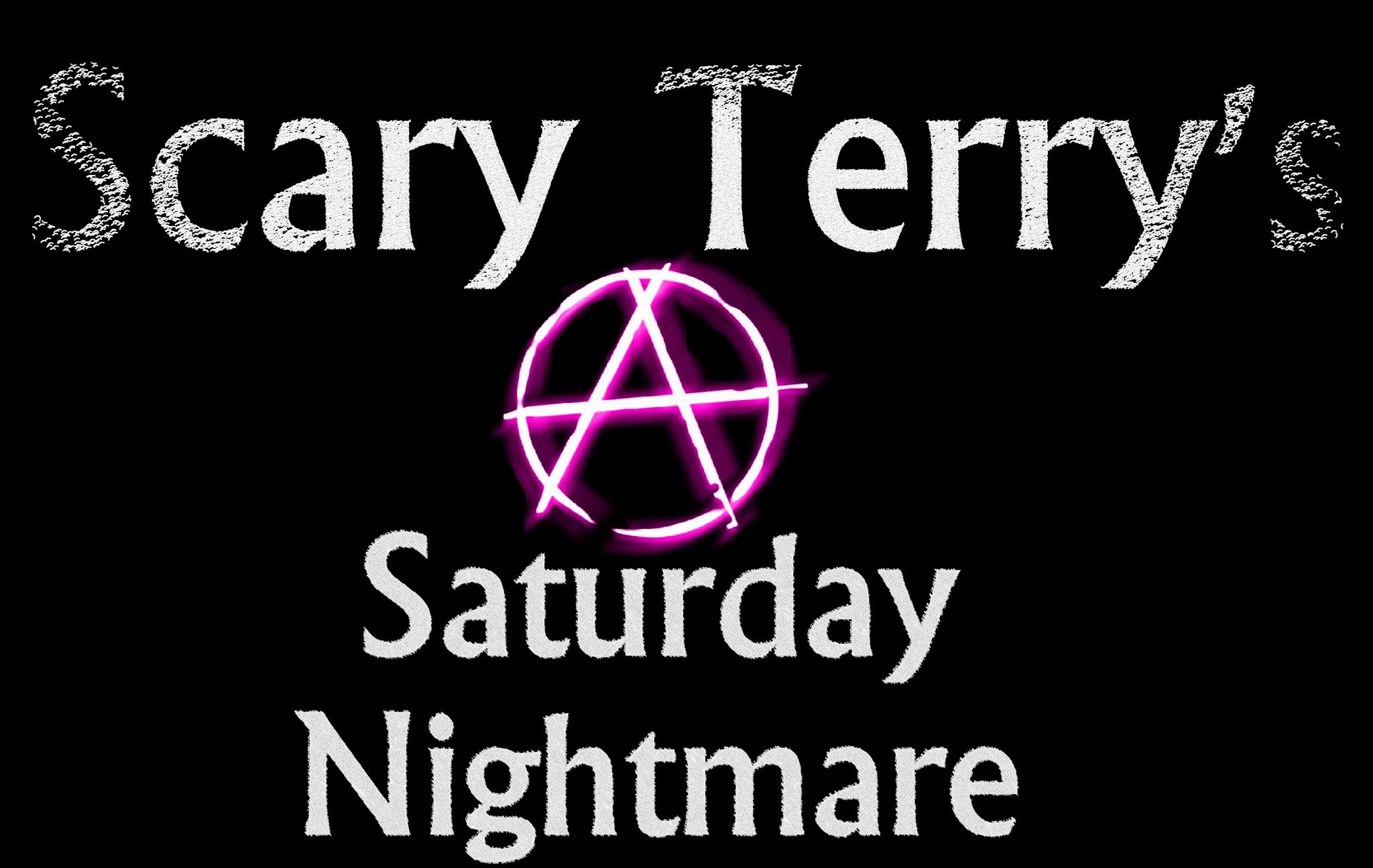 By Mike Arndt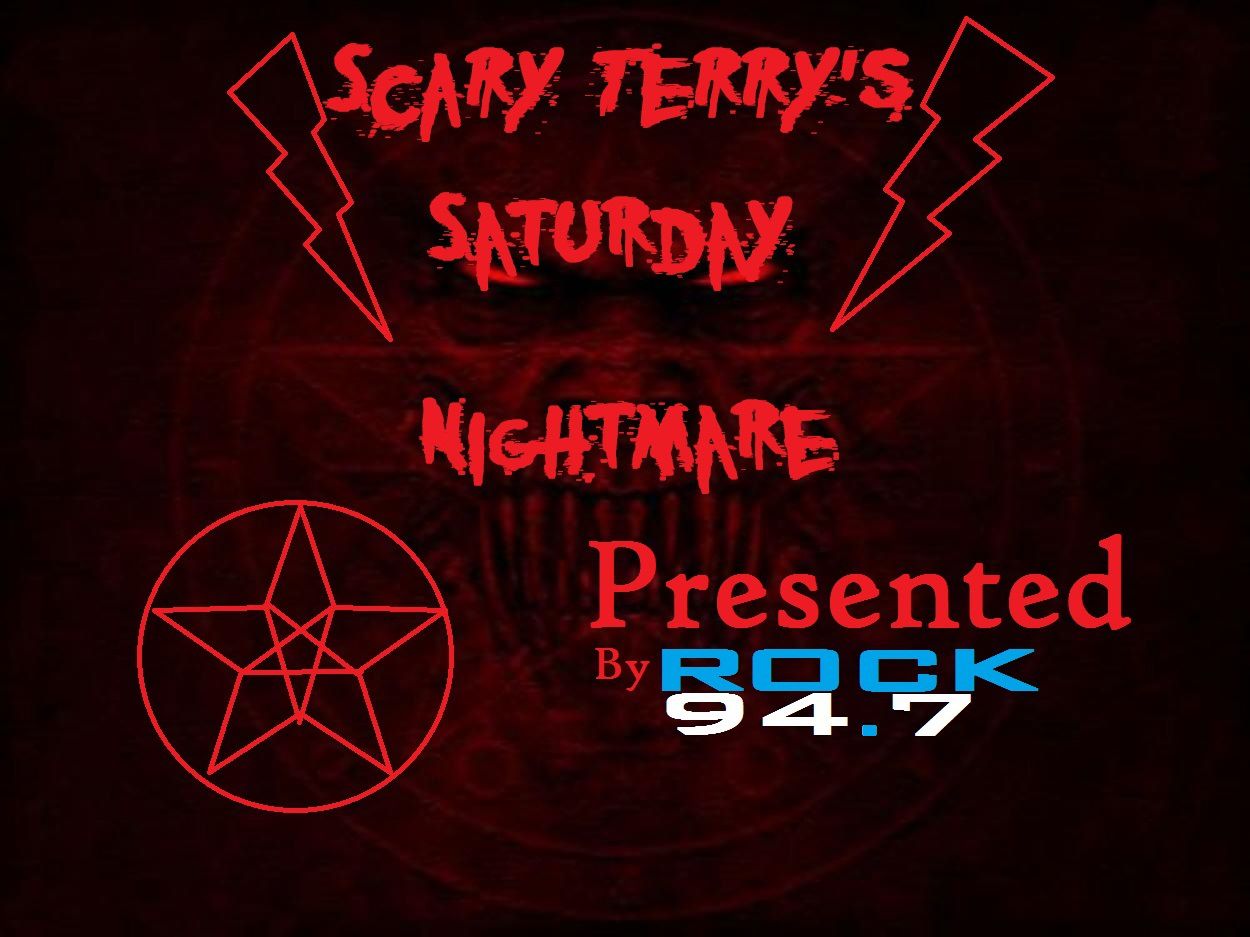 By Sean Honsa
There were some others that were made, but they used copyrighted images, so I can't post them here. With that being said, it really means a lot to me that people enjoyed the show enough that they were inspired to work up logos for me. Thanks guys.
We needed something more official-looking for marketing purposes, so I turned to our award-winning graphic designer, Jodi Behling, to come up with something. This is what she sent back: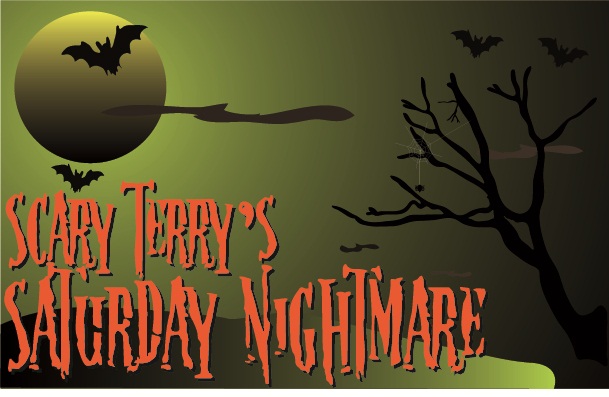 Hey, it was late September. She probably thought I was planning a show where I tell ghost stories.
I requested a second take with the request, "More 'metal' less 'Halloween'," and that's when she came up with this beauty: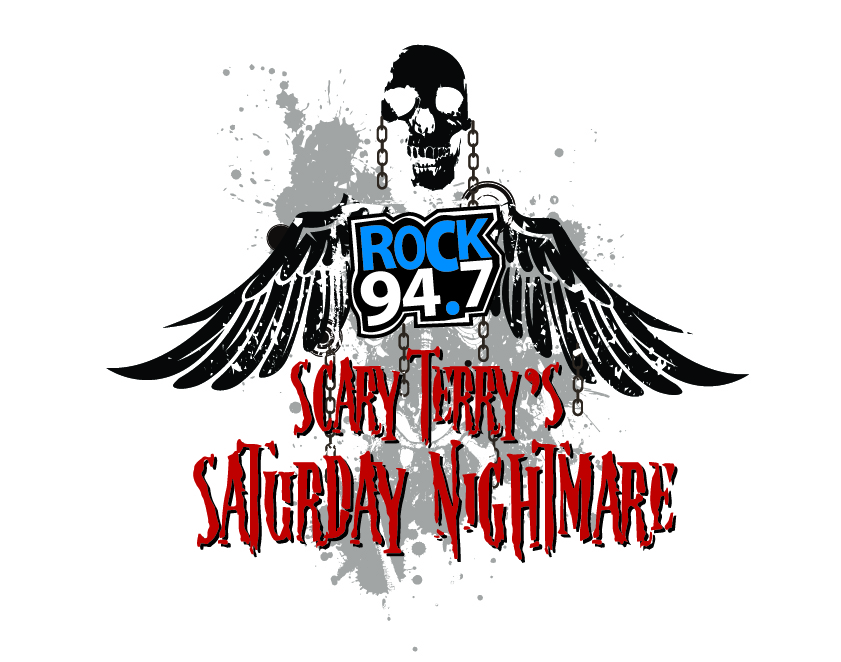 I need to have this on the back of a denim vest. Anybody good with embroidery or an airbrush?
Jodi freaking NAILED IT!
We had the killer logo and the airtime. Now we needed more content.
I set about expanding our music library by making contact with record labels. It took some serious legwork, but I finally got hooked up with Nikki Law and Ashley Di Buduo over at Century Media and Inside Out, Nathan Birk at Napalm, Vince Edwards at Metal Blade (who's actually from Wisconsin) and several others including the legendary Munsy Ricci over at Skateboard Marketing who reps for more labels than I can count.
These folks work their asses off promoting bands, taking an enormous amount of work off of the artists shoulders so they can concentrate on their art. I know it's popular in some circles to crap on record labels, but the ones I mentioned above truly do take care of their artists. They're the ones who hook us up with new bands to share with you and artist interviews that let you get inside the heads of the men and women who make the music you love.
Speaking of interviews, we've done quite a few in the past year. Once I knew that we could get artists to talk about their art on the show, I knew I needed to "brand" the feature so it wasn't just another interview. Hence...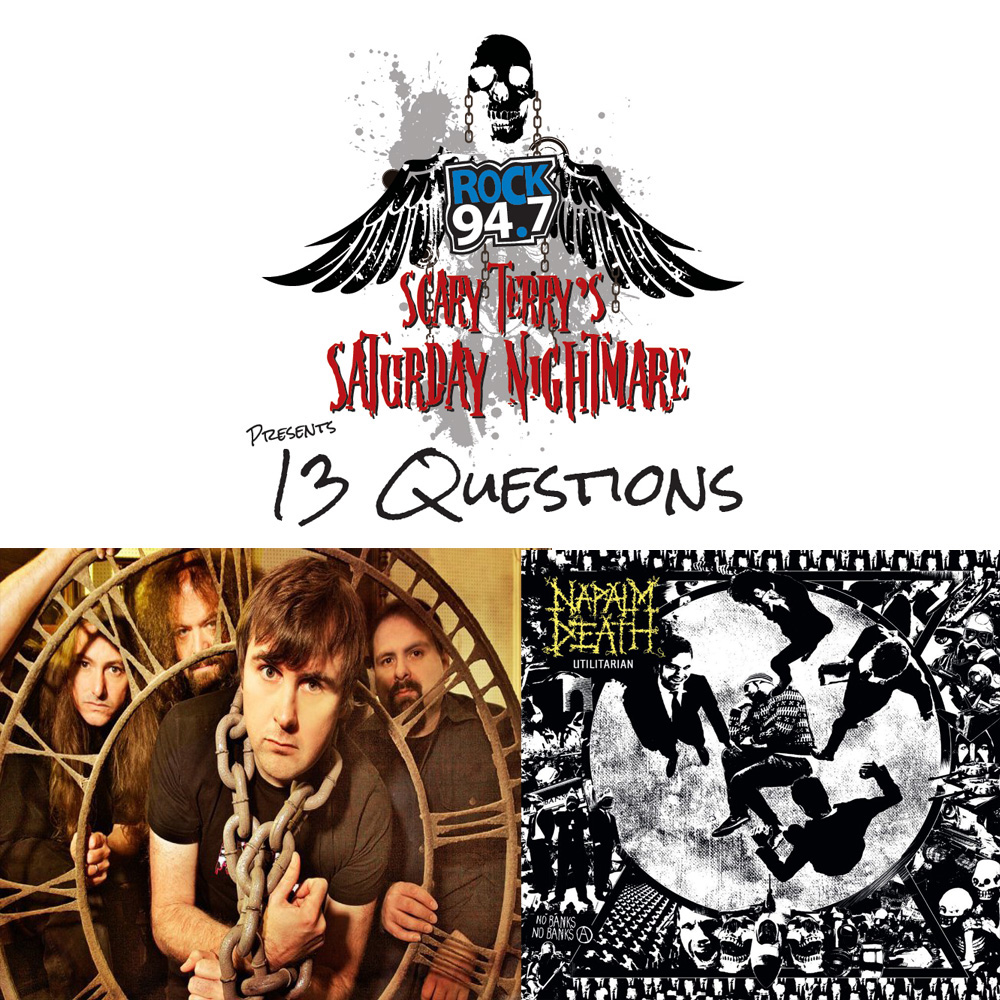 Easily my favorite 13 Questions if only because of his answer to the final question...
I came up with 13 Questions, because 666 would have been way too many and because no one else was doing 13. Plus, 13's a pretty metal number.
In the past year we've had a wide range of artists on the show, ranging from new bands like Kontrust and Stealing Axion, to more established acts like Hellyeah and In This Moment, to legends like Accept and Napalm Death. This show has given me an opportunity to talk to artists that I've looked up to for years, and I thank you for giving me the opportunity to do that through your continued listening.
In the past year, we've also prettied up the production values of the show a bit, adding new bits between the songs, artist drops (ex. "Hey, this is Chuck Billy from Testament and you're listening to Scary Terry..."), and running music under the bits where I'm talking.
That's where we've been. So where are we at?
Today, Scary Terry's Saturday Nightmare, much to everyone's surprise, is still on the air. Launching a new show is always a risk, especially when it's a format like metal. In the Nightmare's case, the risk has paid off. Our ratings are solid and growing. Artists want to be on the show and labels want their music on because they know you're listening. Thank you for that.
So where do we go next?
I have a couple of goals for the show that I'd like to share with you.
1) Keep the ratings growing. Like I say every week, keep listening, telling your friends to listen and clicking that "Like" button on the Official Scary Terry's Saturday Nightmare Facebook Page, and we'll keep on keeping metal on in Central Wisconsin and world wide via our website stream. You can also follow me on Twitter.
2) Develop a one-stop shop for Nightmare material on www.rock947.com. Right now, playlists are in my Blog. 13 Questions are in the Podcast section. I'd like a more central location for Nightmare related material and I've been told that it's in the works. There are some content items that I experimented with in the past year that I'd like to more fully develop in that space.
3) Continue to prove that metal is a commercially viable format in Central Wisconsin. We've seen high demand for songs by Pantera, In This Moment, Hellyeah, Metallica and the like during the week on Rock 94.7. We PACKED a local business when we gave away tickets to Knotfest, a MASSIVE metal festival. There's an appetite for this music, and the people who listen to it hold down good paying jobs and consume food, shelter, clothing and plenty of other commercial goods just like everybody else. They just happen to listen to metal while they do it.
In closing, thank you for listening. I've dreamed of doing a show like this since I was a wee metalhead. Your encouragements via e-mail, Facebook, and Twitter are humbling. I'm not an industry guy. I'm not an insider. I'm not a former musician (okay I was in a band once but I was hardly a musician). I'm just a metal fan who is very lucky to be hosting a metal show. I have you to thank for that. Please know that you have my gratitude every time you listen.
I invite you to do so again this Saturday as we give you 3 more hours of non-stop metal from 9pm to Midnight Rock 94.7, 102.9 and online!
Be Metal,
\m/ ST \m/