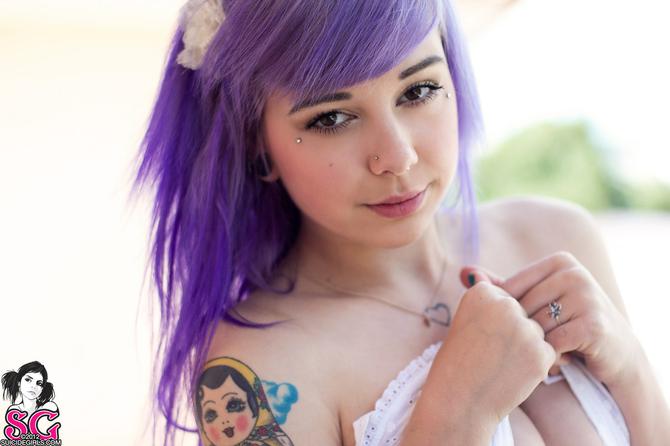 https://suicidegirls.com/girls/Ellia/
Vital Stats:
HEIGHT: 5'1"
WEIGHT: 110LBS
DRUG USE: DRUG FREE
KINK FACTOR: I'LL TRY ANYTHING ONCE, ESPECIALLY IF YOU BEG FOR IT.
WEED: OCCASIONALLY
BOOZE: OCCASIONALLY
POLITICS: POLITICS, WHO CARES?
DIET: VEGETARIAN
MUSIC: BRAND NEW CLAMS CASINO MODEST MOUSE OLD R&B PINBACK SELENA TAKING BACK SUNDAY THE WEEKND
TELEVISION: ADVENTURE TIME BREAKING BAD FOOD NETWORK HOW I MET YOUR MOTHER MAD MEN SHAMELESS
FILMS: ANCHORMAN LOST IN TRANSLATION PUNCH DRUNK LOVE RIDING IN CARS WITH BOYS WRISTCUTTERS
MY IDEA OF A GOOD TIME: STAY IN AND WATCH OLD MOVIES ON TV.
SUPPORT LOCAL MUSIC. GO TO A SHOW.
INTO: ART BAKING & COOKING BREAKFAST FOOD BUBBLE BATHS BUTTS GOING ON WALKS GOOD MUSIC GOOD PEOPLE GOOD TIMES LAUGHING NOT WEARING PANTS OLD MIX CD'S PB&J RUNNING SLEEPING SLEEPING IN BUT NOT TOO LATE SUMMER TIME SURPRISES TATTOO'S VEGETARIANISM
5 THINGS THAT I CAN'T LIVE WITHOUT: FOOD SLEEP
I SPEND MOST OF MY FREE TIME: HANGING OUT NETFLIX RUNNING SLEEPING WORKING