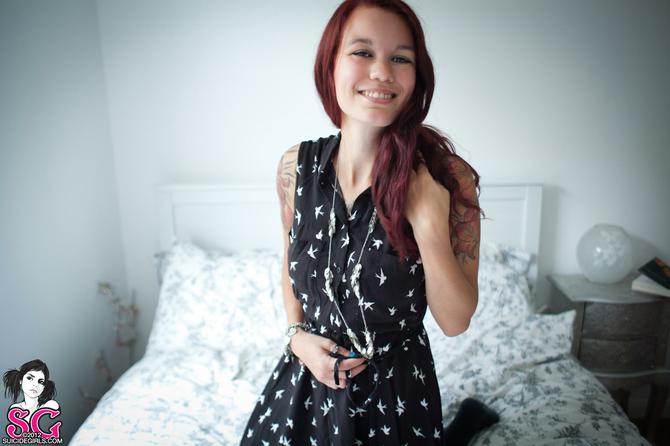 https://suicidegirls.com/girls/lucerne/

Vital Stats:
HEIGHT: 5'1"
WEIGHT: 106LBS
BODY TYPE: AVERAGE
DRUG USE: DRUG FREE
STATUS: EXCLUSIVE RELATIONSHIP
SEX: IF WE GET ALONG AND THERE'S A SPARK
KINK FACTOR: I'M SAVING MYSELF FOR JESUS!
CIGARETTES: NOPE
BOOZE: OCCASIONALLY
DIET: OMNIVORE
RELIGION: RICHARD DAWKINS IS MY CO-PILOT
TELEVISION: ADVENTURE TIME BREAKING BAD DEATH NOTE ELFEN LIED GAME OF THRONES HOUSE MISFITS MYTHBUSTERS THE OFFICE (US) THE WALKING DEAD
FILMS: 500 DAYS OF SUMMER BIG DADDY DRIVE FEAST OF LOVE FROM UP ON POPPY HILL GARDEN STATE INSIDE I'M DANCING KIKI'S DELIVERY SERVICE LAWLESS LORD OF THE RINGS TRILOGY MY NEIGHBOUR TOTORO PONYO PRINCESS MONONOKE SHAME STARDUST THE AVENGERS THE HOBBIT THE PLACE BEYOND THE PINES WHISPER OF THE HEART
BOOKS: APPLES CHOKE INVISIBLE MONSTERS KIMBERLEY'S CAPITAL PUNISHMENT THE LORD OF THE RINGS
ARTIST: HAYAO MIYAZAKI
VIDEO GAMES: SID MEIER'S CIVILIZATION
MY IDEA OF A GOOD TIME: CLUBBING FOLLOWED BY THE ALL-NIGHT DINER.
INTERNET. ALL NIGHT. AGAIN.
SUPPORT LOCAL MUSIC. GO TO A SHOW.
INTO: BOARD GAMES DANCING FOOD GIRAFFES HUGS JOHNNY CUPCAKES NAPS STUDIO GHIBLI TRAIN JOURNEYS
5 THINGS THAT I CAN'T LIVE WITHOUT: GYOZA
I SPEND MOST OF MY FREE TIME: DREAMING EATING HUGGING NAPPING OBSESSING
MUSIC: A DAY TO REMEMBER ALKALINE TRIO A LOSS FOR WORDS ALT-J AMERICAN FOOTBALL BALANCE AND COMPOSURE BON IVER BRAND NEW BRIGHT EYES CITIZEN COHEED AND CAMBRIA DEATH CAB FOR CUTIE DEFTONES ED SHEERAN FIREWORKS HIM KEVIN DEVINE KOJI LOS CAMPESINOS! MISSER NECK DEEP NEW FOUND GLORY OWEN PARAMORE SAY ANYTHING THE BLACK KEYS THE DECEMBERISTS THE LITTLE ONES THE POSTAL SERVICE THE STORY SO FAR THE WONDER YEARS TRANSIT