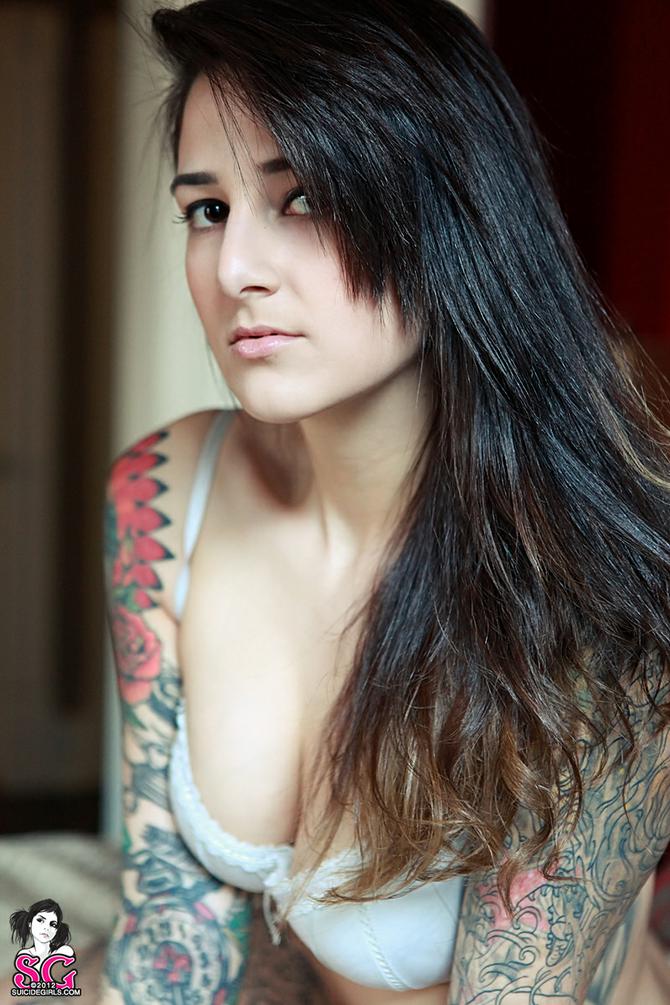 https://suicidegirls.com/girls/Rourke/ 

Vital Stats:
STATS: 5' 10'' 140 LBS.
GETS ME HOT: MEN IN V-NECKS. NECK KISSES.
FANTASY: SWEET, PURE, REQUITED ADORATION.
CIGARETTES: NOPE
DIET: OMNIVORE
BOOZE: I AM A COMPLETE DRUNKARD
DRUG USE: DOWN THE HATCH
KINK FACTOR: I'LL TRY ANYTHING ONCE, ESPECIALLY IF YOU BEG FOR IT.
POLITICS: POLITICS, WHO CARES?
WEED: OCCASIONALLY
STATUS: OPEN RELATIONSHIP
MY IDEA OF A GOOD TIME: BARS, AFTERPARTIES, HOME BY DAWN.
MY PIGEONHOLES: ELECTRONICA SNOB, HIPSTER, RAVER, GEEK, GAMER
INTO: PHILOSOPHIZING, INQUIRING, SPECULATING, AND DREAMING.
NOT INTO: D-R-A-M-A. SAVE IT FOR YOUR MAMA.
MAKES ME HAPPY: STANDING AT THE VERY EDGE OF THE LAND, WHERE THE OCEAN LAPS AT MY FEET AND SMELLS SWEET IN THE AIR. ALSO. MY PUPPY. GNOMES. ROBOTS. NEW TATTOOS. NEW FRIENDS. BEING IN BED WHEN ITS SUPER COLD AND MY BED IS SUPER WARM. SUNNY RAINY DAYS. HANDMADE GIFTS. ROAD TRIPS. TOOTSIE POPS. BLOODY MARYS. CHICKEN WINGS. BRUNCH DATES. REDDIT.
MAKES ME SAD: BEING AWAY FROM MY PUP. THE MOMENT YOU MUST DECIDE BETWEEN WHAT YOU WANT AND WHAT IS BEST FOR YOU.
HOBBIES: TRAVELING, SWIMMING IN THE OCEAN, SNOWBOARDING, GETTING TATTOOED, GETTING NAKED, EATING, TRAVELING.
5 THINGS I CAN'T LIVE WITHOUT: FRENCH FRIES, MAC MAKEUP, A TOOTHBRUSH, THE INTERWEBS.