« All Events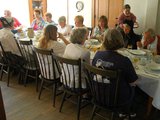 Wade House Hearthside Dinner
When:

Sat, April 26 , 11 AM - 3 PM

Where:

W7965 Highway 23, Greenbush WI 53044

Categories:
Event Details

Enjoy a delicious hearth-cooked meal, prepared with your ownhands, in the historic Wade House stagecoach hotel! Guests prepare 19th-century disheson a wood-burning stove and over an open-hearth fire just as Mrs. Wade did morethan 150 years ago. This participatoryevent culminates in a wonderful sit-down meal in the lovely Wade House diningroom.

Cost Details

$45 per person; reservations required.