« back to Movies
Grown Ups 2
Release Date: July 12, 2013
Genres: Comedy
Cast: Adam Sandler, Kevin James, Chris Rock, David Spade, Salma Hayek, Maya Rudolph, Maria Bello, Nick Swardson
Directors: Dennis Dugan
Official Site: http://www.GrownUps2-Movie.com/
Distributor: Sony Pictures
Lenny has relocated his family back to the small town where he and his friends grew up. This time around, the grown ups are the ones learning lessons from their kids on a day notoriously full of surprises: the last day of school.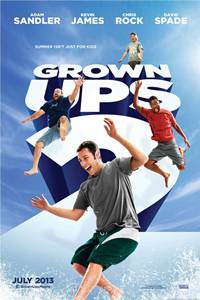 Show Times / Buy Tickets
There are no current showings for Grown Ups 2 in this area.