« back to Movies
Third Person
Release Date: None
Genres: Drama
Cast: Liam Neeson, Mila Kunis, Adrien Brody, James Franco, Olivia Wilde, Maria Bello, Kim Basinger, Moran Atias
Directors: Paul Haggis
Official Site: http://www.sonyclassics.com/thirdperson/
Distributor: Sony Pictures Classics
Three couples in three cities find love and heartbreak in three interlocking stories. A married writer and a single girl sadistically toy with each other in Paris, a corporate thief on the run from the law meets a beautiful gypsy woman in Rome and a failed soap star wages a custody battle for the son she endangered in New York.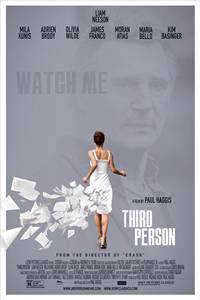 Show Times / Buy Tickets
There are no current showings for Third Person in this area.