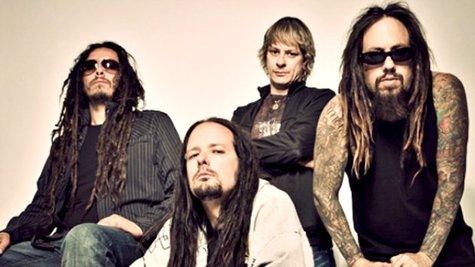 Guitarist James "Munky" Shaffer revealed that Korn has begun working on their next studio album, which he says will be different from their 2011 dubstep album, The Path to Totality .
"We're just in the beginning phases of starting to think about our new album," the guitarist tells Gibson Guitar India . "It will probably lean more rock than the last one."
While Path to Totality featured collaborations with a number of dubstep producers and DJs, including Kill The Noise , Excision , Skrillex and 12th Planet , Shaffer hints that Korn's next album may not involve a number of guest appearances. "In terms of collaborations, we're just getting started in terms of thinking about it, so we'll have to see," he says.
Shaffer also reveals that the band's songwriting process has matured over the years. "We are definitely all in a different space than when we were 20 years old," explains the guitarist. "But like anyone, we all have conflict in our lives, things that drive us or fuel our creativity. I know Jonathan channels a lot of real pain and emotion into all of his lyrics, even to this day."
In other Korn news, the band will release their live DVD, The Path of Totality Tour -- Live at the Hollywood Palladium , on Tuesday.
Copyright 2012 ABC News Radio