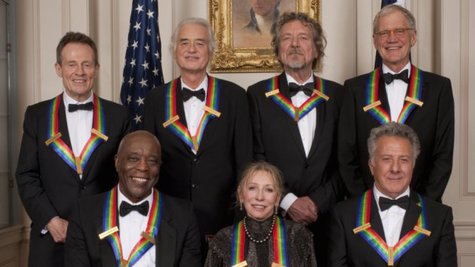 The three surviving founders of Led Zeppelin were among the entertainment icons that were recognized for their contributions to the performing arts on Sunday night at the annual Kennedy Center Honors in Washington, D.C.
Robert Plant , Jimmy Page and John Paul Jones joined fellow honorees actor Dustin Hoffman , late-night TV host David Letterman , blues guitarist Buddy Guy and ballerina Natalia Makarova at the gala, which also was attended by President Obama and his wife, Michelle .
Led Zeppelin's segment at the event featured tributes by comic actor Jack Black , Foo Fighters , Kid Rock and Heart 's Ann and Nancy Wilson . Black took charge of the homage, calling the British group "the greatest rock and roll band of all time." The Foo Fighters covered Zeppelin's "Black Dog" and "Rock and Roll" -- with usual drummer Taylor Hawkins on lead vocals, rather than frontman Dave Grohl , who was on drums. In addition, Kid Rock did "Babe I'm Gonna Leave You" and "Ramble On," and Kravitz performed "Whole Lotta Love." Lastly, Heart's Wilson sisters tackled "Stairway to Heaven" with accompaniment from late Zeppelin drummer John Bonham 's son, Jason , and a children's choir.
Guy's tribute included performances by Jeff Beck , Bonnie Raitt , Tracy Chapman and Jimmy Vaughan .
On the red carpet before the gala, Page expressed pride at receiving the honor. "It's something that I would have never believed possible," he said. "Being from the U.K., I'm just so thrilled -- just thrilled to bits. And, it's just so wonderful to know that it's all a result of the music that we've created that's really made people happy."
Earlier in the day, the honorees visited the White House for a reception hosted by President Obama and the first lady. During that event, the president credited Led Zeppelin with redefining the rock genre and its lifestyle. Obama then quipped that it was "fitting" that the room they were in had three-inch-thick windows, given the band's history of trashing hotels.
A two-hour TV special featuring highlights from of the 2012 Kennedy Center Honors will be broadcast on CBS on December 26 at 9 p.m. ET/PT. Also, just a reminder: Page, Plant and Jones will appear together on tonight's episode of CBS' Late Show with David Letterman , which airs at 11:35 p.m. ET/10:35 p.m. CT.
Copyright 2012 ABC News Radio