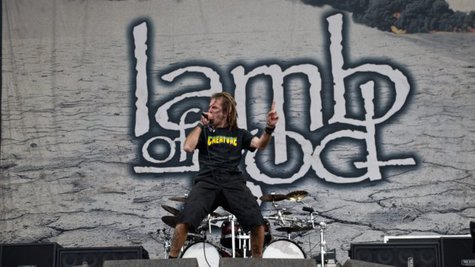 It appears that Randy Blythe will soon be returning to the Czech Republic to face charges.
Czech news portal Novinky.cz reports that the State Attorney's Office in Prague officially indicted the Lamb of God singer on a manslaughter charge on Friday, in connection with an incident that took place during the band's 2010 concert at Club Abaton in Prague. The singer is being accused of roughing up a fan named Daniel N. after the fan leaped onto the stage during the show. Czech Republic authorities allege the incident caused injuries that led to Daniel's death 14 days later.
In a statement provided to ABC News Radio on Monday, Lamb of God's manager Larry Mazer says that the band "intend[s] to fight vigorously against these charges" as they feel that Blythe didn't "intend to cause bodily harm" or do anything "improper" to Daniel N. Mazer goes on to say that the band has testimony from the Czech Republic venue's operator and "numerous testimonies from fans" to help back up their claim that Blythe is innocent.
The court has three months to set a date for Blythe's trial or send the case back for further investigation.
Copyright 2012 ABC News Radio