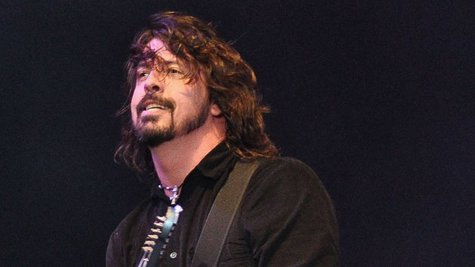 Tonight's star-studded benefit show at New York City's Madison Square Garden, 12.12.12 -- The Concert for Sandy Relief , apparently is set to feature some mind-blowing onstage collaborations. According to The Guardian , the late Kurt Cobain 's shoes will be filled by Paul McCartney , who is set to jam with the surviving members of Nirvana .
The newspaper reports that ex-Nirvana drummer Dave Grohl , who also is on the 12.12.12 concert bill, recently asked the Beatles legend if he'd like to "jam with some mates" -- who turned out to be former Nirvana bassist Krist Novoselic and touring guitarist Pat Smear , who also is a member of Grohl's Foo Fighters . Novoselic recently contributed to the latest Foos album, but he and Grohl haven't performed together in public since Cobain's death in 1994.
The former Beatle explained that when he got to the rehearsal session, "I didn't really know who they were. They are saying how good it is to be back together. I said, 'Whoa? You guys haven't played together for all that time?'"
Sir Paul added, "Somebody whispered to me: 'That's Nirvana. You're Kurt.' I couldn't believe it."
According to The Guardian , the collective ended up putting together a new tune that they plan to play at the big show this evening.
Meanwhile, look for Pearl Jam 's Eddie Vedder to join Roger Waters onstage tonight. The Pink Floyd founder visited NBC's Late Night with Jimmy Fallon on Tuesday night and revealed some of his plans for the 12.12.12 concert, which he confirmed will wrap with a performance of the Floyd classic "Comfortably Numb" that will feature Vedder on vocals.
Other performers at tonight's show include The Rolling Stones , The Who , Eric Clapton , Bruce Springsteen & the E Street Band , Billy Joel and Bon Jovi . The event gets under way at 7:30 p.m. ET, and will air live on a variety TV stations across the globe, as well as stream online at 121212Concert.org and select other websites.
Copyright 2012 ABC News Radio