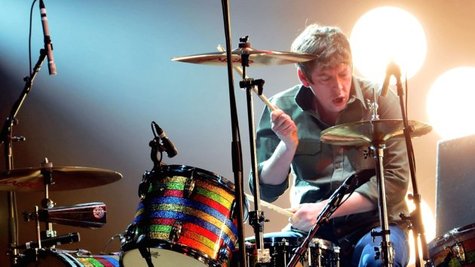 Back in March, Black Keys drummer Patrick Carney got himself in a little bit of hot water after ripping Nickelback in an interview with Rolling Stone . Well, Carney's speaking to Rolling Stone again and this time he's taking aim at classic rock reunions -- Black Sabbath 's and Van Halen 's in particular.
"I just saw Van Halen without [original bassist] Michael Anthony . I'm not a very big Van Halen fan but it was such a f***ing bummer," Carney tells Rolling Stone .
"I mean, sure, Eddie Van Halen 's son is a pretty good bass player and he's a 20-year-old kid and that's cool," Carney adds, speaking about current bass player Wolfgang Van Halen , "but like, what the f**k is that? That's f***ing retarded." He adds, "If someone is able to be in a band for 30 years and then people are okay with replacing him with a 17-year-old, they're obviously motherf***ing a**holes, right?"
As for Black Sabbath 's summer reunion without original drummer Bill Ward , Carney says, "I have no interest in seeing bands with partial lineups."
But even if he's not looking forward to seeing Black Sabbath at Lollapalooza this summer, Carney admits he is looking forward to playing the festival himself, because it's taking place in Chicago.
"You're not stuck in the middle of the desert or a cornfield like most festivals," he says. "That's the bummer about a lot of festivals.... At Coachella, there's nothing to do that's fun for the band afterwards, unless you go to some rich piece-of-s**t's after-party, you know? The same thing goes for Bonnaroo. All you want to do is get the f**k back to Nashville."
Carney also confirmed that the band is headed back into the studio this July with the hope of having a new record out next year. "We don't know when we'll be done but we're starting it in July," he said. "We might not finish it until March since we have to tour so much but we'll see."
Copyright 2012 ABC News Radio