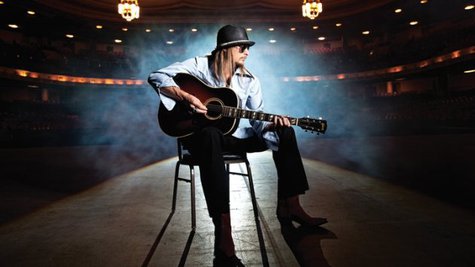 For the second time in three years, Kid Rock will be the halftime entertainment at the Detroit Lions' Thanksgiving game. Rock will perform "Detroit, Michigan," a track off his upcoming release, Rebel Soul , which arrives in stores on November 19.
"It's great because I'm home for Thanksgiving, number one, and it's a huge television audience," Rock tells Billboard.com . "I get to be in front of the hometown fans and it's great to have my family down there and then go eat some turkey and watch the next football game."
Hopefully, the Lions' fans will be happy that Rock has been selected to perform at the upcoming Thanksgiving game. Last year, the team's faithful launched an unsuccessful attempt to dump Nickelback as the halftime entertainment at the Lions' Thanksgiving game against the Green Bay Packers.
You'll be able to see Rock's performance during the halftime show at the Detroit Lions' 73rd Thanksgiving Day Classic against the Houston Texans. The halftime show is sponsored by United Way, and is designed to inspire people to get involved in their communities, with a particular goal to encourage young people to be healthy and active.
Copyright 2012 ABC News Radio