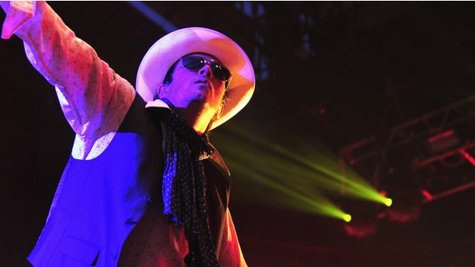 Scott Weiland is getting hitched…for the third time. The Stone Temple Pilots frontman has recently gotten engaged to his girlfriend, photographer Jamie Wachtel , Rolling Stone is reporting.
"I am incredibly happy," Weiland tells Rolling Stone . "She is incredibly beautiful in every aspect of the word. We're getting married in the spring, and our families will be living together…she's the greatest thing that's happened to me in a long, long time."
Weiland met Wachtel while the singer was filming music videos for his 2011 Christmas album, The Most Wonderful Time of the Year . "I had fallen in love a couple times in my life and then for a long time, I've been very disappointed and to the point where I've been resolved to the fact that possibly it would never happen again and almost accepted that it would be OK," he explains. "And then I met her."
In other Weiland news, the singer is about to embark on a five-date solo tour which kicks off on November 25 at the Keswick Theatre in Glenside, Pennsylvania. The trek will make stops at the Highline Ballroom in New York City on November 26; The Stone Pony in Asbury Park, New Jersey, on November 28; Ram's Head Live in Baltimore on November 29; and at the Ricochet Bar & Lounge in Miami on December 2. For more info, visit ScottWeiland.com .
Copyright 2012 ABC News Radio