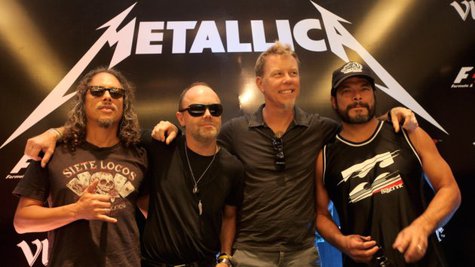 Metallica is celebrating thier freedom from their long-time record label, Warner Brothers Records. Thanks to a deal that the band worked out with Warner Music Group in 1994, the band has now taken ownership of all their master recordings, including all music and long-form videos.
"We would like to thank everyone at the Warner Music Group for 28 years of a fantastic relationship, particularly since 1994 where we truly felt we had partners in every aspect of our business in North America," said frontman James Hetfield in a statement.
But the good news doesn't end there: Metallica has also launched their own record label, Blackened Recordings. "It's always been about control for us as a band," said drummer Lars Ulrich . "Forming Blackened Recordings is the ultimate in independence, giving us 100% control and putting us in the driver's seat of our own creative destiny."
The first release from Blackened Recordings will be the band's live DVD, Quebec Magnetic , which will arrive in stores on December 11. The DVD documents two sold-out concerts that the band filmed in the Colisée Pepsi in Quebec City on October 31 and November 1 of 2009. You can pre-order your copy of Quebec Magnetic now on the band's official website .
Copyright 2012 ABC News Radio