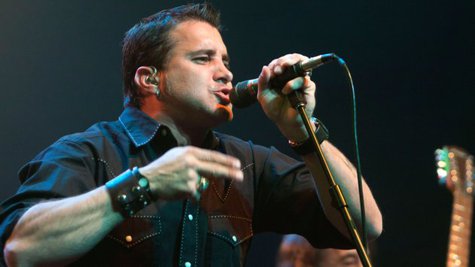 Creed singer Scott Stapp appeared on the Fox News Channel's Fox & Friends on Tuesday morning to voice his opinion about the upcoming presidential election. While Stapp says he voted for President Obama in 2008, he now feels "disappointed" by the president and his administration that made "a lot of promises, but no real delivery."
"For me, it's hard to commit and to trust President Obama again because I was so inspired and thought everything was going to change," said Stapp. "I know he walked into a tough situation, but I feel change is in the air."
Stapp didn't endorse Republican candidate Mitt Romney during his appearance on the show, but he did say that he wanted a president "like [ Ronald ] Reagan or FDR to come back and give us a New Deal."
In other Creed news, the band will be heading overseas later this month for their very first headlining tour of Indonesia, Philippines and South America. That 12-city international trek will start October 31 in Surabaya, Indonesia and will wrap up on November 29 in Buenos Aires, Argentina.
Copyright 2012 ABC News Radio