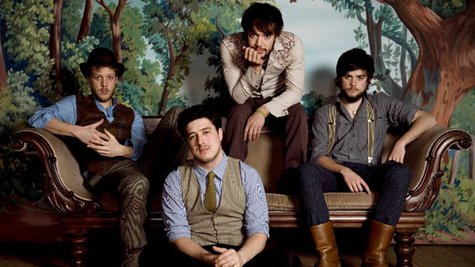 Mumford & Sons teamed up with acclaimed singer-songwriter Emmylou Harris in Nashville Wednesday night for an installment of CMT Crossroads . The episode will air September 20 on CMT.
They shared the stage the entire night, performing songs from both of their catalogs, including the Mumford & Sons hit "The Cave." They also covered the Simon & Garfunkel classic "The Boxer."
Mumford & Sons and Harris were joined by dobro master Jerry Douglas , best known for his work with Alison Krauss and Union Station .
Here's the set list:
"The Cave" (Mumford & Sons song)
"If I Needed You" (Emmylou Harris)
"Where Are You Now" (Mumford & Sons)
"My Name Is Emmitt Till" (Emmylou Harris)
"The Road" (Emmylou Harris)
"Nothing Is Written" (Mumford & Sons)
"Awake My Heart" (Mumford & Sons)
"Orphan Girl" (Emmylou Harris)
"The Boxer" (Simon & Garfunkel)
Copyright 2012 ABC News Radio