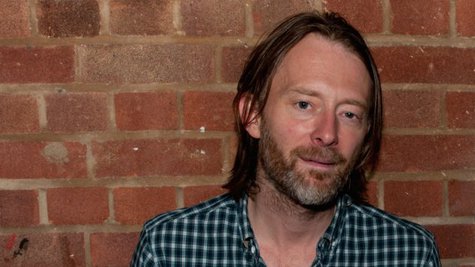 After releasing a pair of remixes, Atoms for Peace -- the all-star collaboration that includes Radiohead frontman Thom Yorke and bassist Flea from Red Hot Chili Peppers -- want you check out their first studio recording.
The band has posted a video for " Default ," the first single from their as-yet-untitled debut album. The video features a pattern of tiles that slowly cover the screen to reveal a black-and-white drawing of several bats flying over a raging sea. "Default" is available now on iTunes .
To officially introduce the track, Yorke posted a note about Atoms for Peace's origin on Radiohead's website. "You may have heard that I have a new project called Atoms for Peace," wrote Yorke. "The name comes from some shows of The Eraser that happened a couple of years ago with [percussionist] Mauro [ Refosco ], [drummer] Joey [ Waronker ], [Radiohead producer] Nigel [ Godrich ] and Flea. We got a big buzz from them and discovered loads of energy from transforming the music from electronic to live, and so afterwards, we carried on for a few days in the studio and decided to make it a loose, on-going thing."
Atoms for Peace's debut album is expected to be released sometime in 2013.
Copyright 2012 ABC News Radio