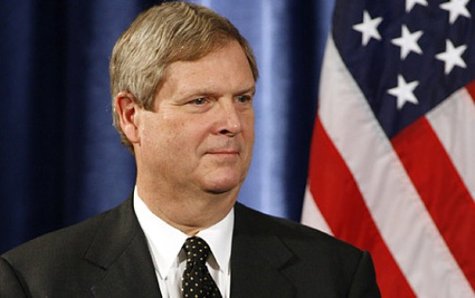 U.S. Secretary of Agriculture Tom Vilsack is urging Congress to take immediate action on the farm bill, since so many agribusinesses make their business plans and manage their land and animals based on the programs and rules in the Farm Bill.
The former Iowa Governor says a wide range of agriculture-related groups and individual operators have come together to urge for Congressional action. "There's never been this unified approach directed at one part of Congress to get its work done and to get it done quickly."
Secretary Vilsack says time runs out this month, and many existing programs are in danger. "We are facing serious issues for livestock producers, for dairy producers, and for specialty crop producers in particular as result of the drought. My concern is that if a farm bill doesn't get passed before September 30th, the MILC Program for dairy producers goes out of existence and there's nothing to replace it. In CRP, (Conservation Reserve Program) we won't be able to continue to provide additional and new opportunities. We won't have any trade promotion resources. This is a very serious time and 41 ag groups are coming to Washington D.C. to encourage action." That farm bill rally is tomorrow.
Congress went back into session this week, but Secretary Vilsack is concerned because the new Farm Bill is not even scheduled for a vote. "Tragically and unfortunately as of today, it appears not to be on the House calendar this week. That obviously could change with the snap of the Speaker's fingers, with Majority Leader Cantor's fingers, or Paul Ryan putting pressure on folks to get things done given his stature. You know there are lots of ways in which this can get done, and we're just hoping people are paying attention." He says extending the old one makes no sense, and there's no reason Congress can't get this done.
Every five years, the federal government passes farm bill legislation that affects every corner of American agriculture. It includes a variety of programs and safety nets that farmers and ranchers depend upon. The Farm Bill includes a variety of programs and safety nets farmers and ranchers depend upon including the Conservation Reserve Program, subsidy payments, and hundreds of other issues.
A podcast of the entire interview with Secretary Tom Vilsack can be found here at WSAU.com in the Newsmakers section.