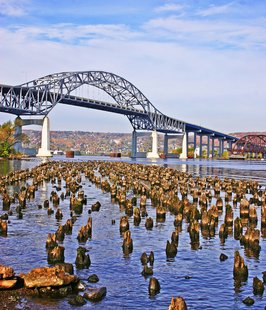 SUPERIOR, WI (WTAQ) - Folks in Duluth and Superior have had their say on what the Blatnik Bridge should look like at night between the two cities.
Transportation officials say they'll go with what the public chose – a system that lights up the bridge from the inside, instead of exterior lights which get more easily damaged and worn out.
A large number of damaged lights caused the bridge to go dark earlier this year – and the lighting scheme is being replaced as part of a larger construction project on the Blatnik Bridge that won't end until about a year from now.
Minnesota and Wisconsin will share the $1.2 million cost of the lighting.
Wisconsin balked at the project at first, saying the state could not afford the decorative lights unless they improve safety. But local residents and officials said a lit-up Blatnik Bridge is an icon that's a sign of unity between the two cities – and they convinced the Badger State to change its mind.
The lights will be turned on once the construction project finishes next fall.