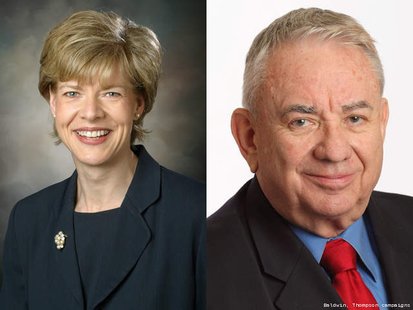 WAUSAU, WI (WSAU) - Wausau will host two important political debates. One will feature Democrat Tammy Baldwin against Republican Tommy Thompson who are after the U.S. Senate seat being vacated by retiring Senator Herb Kohl. That debate will be October 18th.
House of Representatives 7th District challenger Pat Kreitlow will square off against incumbent Republican Sean Duffy in a Wausau debate October 22nd. This event is at the UW Marathon County Center for Civic Engagement beginning at 7:00 p.m.
The Kreitlow-Duffy debate has an unusual format that might remind you of a football game. That's because each of the candidates is given two "challenge flags" they may throw during comments to challenge their opponent's claims.
Baldwin and Thompson will also debate September 28th and October 26th in Milwaukee.