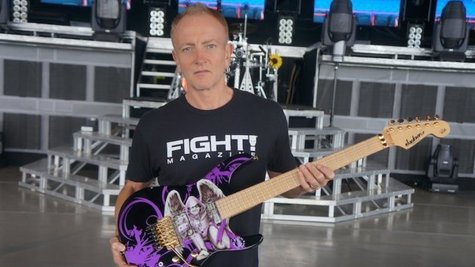 Def Leppard fans now have a chance to bid on a cool electric guitar belonging to Phil Collen , but time is running out. Collen's custom Jackson PC1 guitar, named "Wings," is being sold exclusively on eBay to raise money for the Gerson Institute, a non-profit charity that promotes a holistic treatment for cancer and various degenerative diseases.
The auction is scheduled to end on Saturday, September 15, at 9:57 a.m. PT. Bidding for the instrument has exceeded $15,000. Collen used "Wings" on every show of Def Leppard's Rock of Ages summer trek.
The guitar, which features the image of an angel, is partly dedicated to Collen's father, Kevin , who died of pancreatic cancer. The winning bidder will be revealed in November to coincide with Pancreatic Cancer Awareness Month.
"I'm really excited about this auction and I'm really getting quite attached to this guitar," Phil says in a statement. "We look forward to contributing to the longevity of the Gerson Institute and even more so, the longevity of life."
Copyright 2012 ABC News Radio