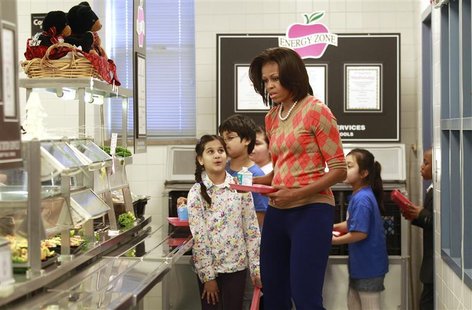 MUKWONAGO, WI (WTAQ) - A bill has been introduced in Congress to lift the lid on school lunch calories that triggered a boycott this week of the food served to students in Mukwonago.
Iowa House Republican Steve King said Michelle Obama's campaign to reduce childhood obesity has become a directive from the USDA. King said Agriculture Secretary Tom Vilsack wants to put every child on a diet, just because some kids are overweight.
Kansas House Republican Tim Huelskamp is co-sponsoring what King calls the "No Hungry Kids Act."
Mukwonago students objected to what they call a one-size-fits-all standard. The senior class president who plays football says the new calorie limit doesn't even cover a-third of the calories he works off at school and football practice.
But the USDA defends the new standards, which also include healthier foods. Undersecretary Kevin Concannon tells the Brownfield Ag News Service it's a more focused set of meal standards, with different minimum and maximum calorie limits based on the students' ages.
He also said it's important to remember that lunch is just one meal – and the school lunches should only cover a third of the calories that children consume each day.
Still, Mukwonago youngsters complained about being underfed, and paying a dime more for it.
Concannon says some schools take part in a national snack program which makes snacks available to students.