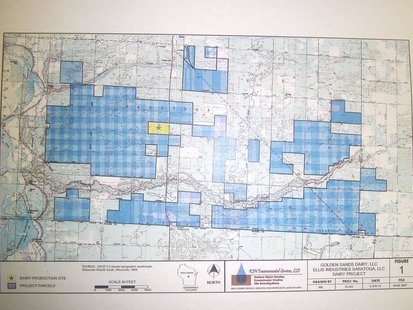 (Editor's Note: Listen to the entire interview with Jim Wysocki by clicking on the black application button above.)
STEVENS POINT,WI (WSAU) - A regional conservation group had an opportunity to ask questions about a proposed large-scale dairy and crop farm south of Wisconsin Rapids. The Golden Sands Resource Conservation and Development Council met in Stevens Point yesterday, and Jim Wysocki answered several questions posed by the multi-county group.
Council members asked about water consumption, potential nitrate leaching from cropland into ground and surface water, and if they plan to use large amounts of antibiotics like some beef and poultry producers. Wysocki assured them the dairy industry has strict measures and testing to keep antibiotics out of the human food chain, so treated animals are isolated until healthy. He also explained how the manure digester breaks down the solids and allows them to manage ammonia and methane gas while making a more manageable fertilizer for the crop land.
The methane gas from manure digesters will be used for electrical generation, and fertilizer applications are carefully applied to prevent nitrate contamination of groundwater and surface water. Wysocki said, "Last year's crop becomes this year's nutrients, and by safeguarding it and doing that (management) direction, that very much reduces our environmental impacts, especially when it comes to groundwater nitrate leaching."
One Council member expressed concern about the two high capacity wells planned for the site. Wysocki says the calculations that were made for total well capacity being presented quote, "assume for the entire period of time you would run them at that half-capacity" adding, "What that does is very much inflates the amount of water used and therefore gives an improper result." Wysocki says actual water usage is far less than the constant half-capacity of the wells because they don't irrigate unless the crop needs water. Wysocki also told WSAU that some people are not accounting for the large number of planted red pine trees on the land that presently consume a great deal of water.
Wysocki Farms already operates Central Sands Dairy southwest of Nekoosa. They are planning a six-thousand acre dairy farm in the Town of Saratoga that would manage 53-hundred animals and produce between five and six tanker trucks of milk every day. The central part of this farm would be at Highway 13 and Tower Road.
The comment period ends today for the Environmental Impact Review, which will be submitted to the Department of Natural Resources soon. DNR officials are likely to issue the finalized Environmental Impact Statement early next spring. That process will study several things including groundwater flow, air quality issues, soil type, and traffic impact.