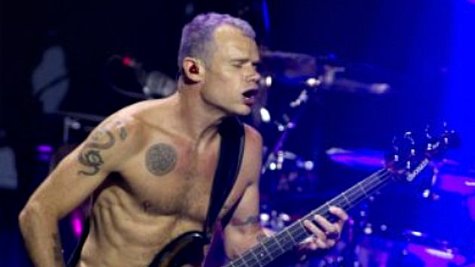 Red Hot Chili Peppers bassist Flea has just announced that he, along with frontman Anthony Kiedis , will be hosting a special charity concert at his home in Los Angeles to benefit the Silverlake Conservatory of Music. The event will feature performances from the Chili Peppers and Rancid on October 16, which also happens to be Flea's birthday.
In addition, the benefit will also include dinner and a silent auction featuring items donated by President Bill Clinton , Chili Peppers drummer Chad Smith , artist Raymond Pettibon , Rancid frontman Tim Armstrong , clothing designer John Varvatos and The Police guitarist Andy Summers , plus more.
Silverlake Conservatory of Music is a nonprofit institution that offers music instruction and grants scholarships that provide free instruction and instruments to young people in the Silver Lake region of L.A. Flea helped found the Conservatory in 2001 and Kiedis sits on its board of directors.
In order to attend the intimate gathering, you'll need to donate a minimum of $1,500. Visit SilverLakeConservatory.org for more information.
Copyright 2012 ABC News Radio