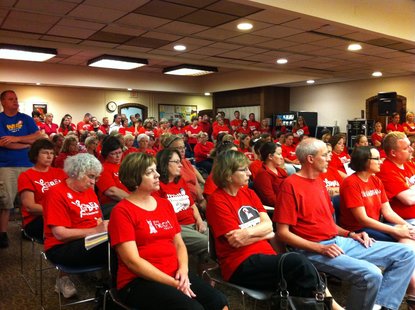 MADISON, WI (WTAQ) - Wisconsin school administrators will meet Friday, and try to make sense of last Friday's court ruling which struck down parts of the state law that limited most public union bargaining.
Some superintendents and teachers' unions say they'll wait to see how the issue is played out when the state challenges the ruling in the appellate courts.
Other groups, like the Madison and Merrill teachers' unions, have asked their bosses to get contract talks going before the bargaining law could be put back into place.
An appeals court will hold a hearing October 4th on the state's request to restore the law while the full appeal is being considered.
Thursday, state public school Superintendent Tony Evers said during his annual education address that teachers have been unfairly targeted in the battle over collective bargaining. Evers said all Wisconsinites should be alarmed when teachers are not valued and respected in their communities.
As he put it, "No other profession is more responsible for securing our economic future." Evers opposed the union limits, but he later worked with Governor Scott Walker on a number of education reforms.
Walker's office responded to Evers' address by saying, "transforming education will continue to be one of Governor Walker's top priorities in the next state budget."
After his address, Evers said he would not comment on last week's court ruling. He expects to hear more about it Friday at the conference of school administrators.
Evers does say schools are taking a "real toll" financially, and he'll keep pushing for changes in the state aid system.