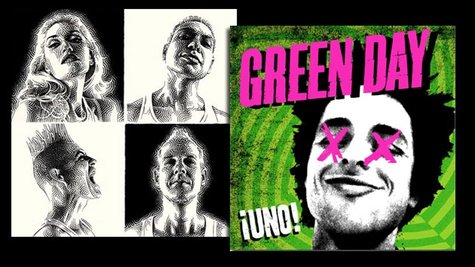 Two of the biggest bands of the 1990s, Green Day and No Doubt , are putting out new albums today.
No Doubt end their long recording hiatus by releasing Push and Shove , their first studio album in about a decade. The album features 11 new tracks, including the first single, "Settle Down." It also includes production by Mark "Spike" Stent , as well as collaborations with Major Lazer -- a.k.a. DJ/producer Diplo -- and dancehall artist Busy Signal . During the band's hiatus, lead singer Gwen Stefani released two solo albums. Collectively, the entire band also got busy starting families, and now the No Doubt brood includes nine children.
In celebration of their new release, No Doubt has scheduled a six-night residency of hometown shows at The Gibson Amphitheatre in Universal City, CA. The concerts take place on November 24, 26, 28, 30 and December 2 and 4.
While Green Day fans are still reeling from the band's recent announcement that frontman Billie Joe Armstrong is in rehab for substance abuse, the band has released ¡Uno!, the first of the band's three-album trilogy. Their album features 12 new tracks, several for which the band posted online videos, including " Nuclear Family ," " Stay the Night ," " Kill the DJ " and the album's first single, " Oh Love ."
You'll get your chance to hear ¡Uno! performed live when Green Day hits the road for a North American tour. That outing kicks off at the Paramount Theatre in Seattle on November 26, shortly after the second album in the trilogy, ¡Dos! , is released on November 13. The band's final album of the trilogy, ¡Tré! , will be available on January 15, 2013.
Copyright 2012 ABC News Radio