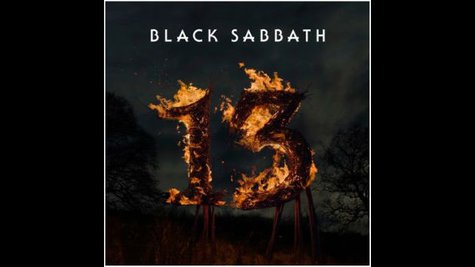 Black Sabbath has revealed the track list to 13, the heavy metal legends' first studio album to feature founding singer Ozzy Osbourne since 1978's Never Say Die . The record features just eight songs, while clocking in at almost an hour in length. Five of the tunes run more than seven minutes long.
One of those epic songs is the including lead track, "End of the Beginning." As previously reported, Black Sabbath will premiere the tune during a special appearance on the May 15 episode of the CBS' series CSI: Crime Scene Investigation .
The band also has unveiled a slightly revised cover for the upcoming album, which features the eerie image of a burning number 13 in a field under a starlit sky. 13 will be released on June 11. Produced by Rick Rubin , the recorded features original members Osbourne, guitarist Tony Iommi and bassist Geezer Butler , along with Rage Against the Machine 's Brad Wilk on drums.
Here is the full track list, including the running times for each song:
"End of the Beginning" (8:07)
"God Is Dead?" (8:54)
"Loner" (5:06)
"Zeitgeist" (4:28)
"Age of Reason" (7:02)
"Live Forever" (4:49)
"Damaged Soul" (7:43)
"Dear Father" (7:06)
Copyright 2013 ABC News Radio