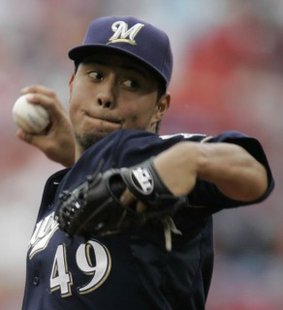 Final Score: Milwaukee 6, San Diego 3
San Diego, CA (TSN) - Jonathan Lucroy and Yuniesky Betancourt drove in two runs apiece, and the Milwaukee Brewers defeated the San Diego Padres, 6-3, for their ninth straight victory.
After starting the season 2-8, the Brewers have won nine in a row for the first time since a 10-game run from Aug. 19-28, 2003.
Ryan Braun and Jean Segura each had an RBI for the Brewers, who have won the first two games of the three-game set. Starter Yovani Gallardo (2-1) allowed three runs on eight hits and five walks over 6 2/3 innings. Jim Henderson pitched a scoreless ninth to pick up his fifth save.
Clayton Richard (0-2) lasted just 1 2/3 innings, surrendering six runs on six hits and two walks for the Padres, who had Carlos Quentin return from an eight-game suspension for charging the mound and starting a benches-clearing brawl after being hit by a pitch by the Dodgers' Zack Greinke on April 11.
Quentin, Yonder Alonso and Will Venable each had an RBI for the Padres in defeat, their seventh straight loss at home.