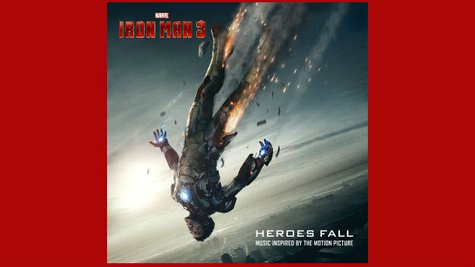 If you can't wait to check out Heroes Fall , a collection of songs "inspired by" upcoming the superhero sequel Iron Man 3 , you're in luck. One-minute previews of every track from the release are currently available on YouTube.
Imagine Dragons has contributed an original song to the album called "Ready Aim Fire," while AWOLNATION has created a track titled "Some Kind of Joke," which will be included in the forthcoming flick. Other artists featured on the compilation include Neon Trees , Passion Pit , Capital Cities and a solo track from former Wolfmother frontman Andrew Stockdale .
Heroes Fall is set to be released on Tuesday, while Iron Man 3 will hit theaters on Friday. It tells the continuing story of billionaire industrialist playboy Tony Stark, aka Iron Man, played by Robert Downey Jr . In this chapter, Stark's personal world is destroyed by battle super-villain The Mandarin, played by Ben Kingsley .
Here's the track list for Heroes Fall :
"Ready Aim Fire" -- Imagine Dragons
"Some Kind of Joke" -- AWOLNATION
"Some Kind of Monster" -- Neon Trees
"American Blood" -- Passion Pit
"No Time" -- Rogue Wave
"One Minute More" -- Capital Cities
"Back to the Start" -- Mr Little Jeans
"Keep Moving" -- Andrew Stockdale
"Redemption" -- Redlight King
"Big Bad Wolves" -- WALK THE MOON
"BAD GUY" -- 3OH!3
"Let's Go All the Way" -- The Wondergirls featuring Ashley Hamilton and Robbie Williams
Copyright 2013 ABC News Radio