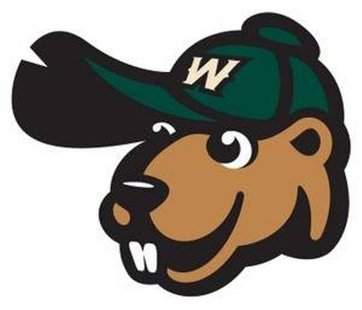 THUNDER BAY, Ontario (WSAU-Woodchucks) - Wisconsin Woodchucks relievers Brock and Adam Rude combined to throw six innings, allowing only one run, to aid the Woodchucks in a 12-4 victory over the Battle Creek Bombers.
Brock Rude would received the win for the Woodchucks after entering in the fourth. Brock threw three innings of shutout baseball, allowing no runs on only one hit. His cousin, Adam, received the save, going three innings, and allowing only a single run in the ninth in his outing.
Just as they had done the previous night, the Woodchucks would crack open the scoring in the top of the first. After a double by Tell Taylor sent Kyle Haen to third base, Tyler Adams launched a missile off the glove of second baseman Adam Collins that dropped down for a single. Haen scored from third to give the Woodchucks a 1-0 advantage.
After a scoreless bottom of the first from Aaron Fossas, the Woodchucks added to their lead in the second. John Roberts drew a walk and stole second base to put himself in scoring position for Haen. Haen then singled to score Roberts and make it 2-0 in favor of the Woodchucks. Haen would score as well in the frame on Adams' second RBI single of the game, putting the 'Chucks on top 3-0.
The 3-0 lead would hold until the bottom of the third. In the inning, the Border Cats pushed across three runs to tie the game. Scott Held recorded a two-run single and Philip Lyons added an RBI hit as well off of Fossas. After a scoreless fourth, the Woodchucks reclaimed the lead in the fifth. The offense put up a four-spot, including an RBI single by John Menken and a sacrifice fly by Roberts to make the score 7-3.
The Woodchucks offense didn't stop there. In the seventh, they extended the lead to nine runs with their fifth multi-run inning of the contest. Haen and Menken had RBI singles in the inning and Adams added a two-run double to put the Woodchucks on top 12-3. The double gave Adams four hits and four RBI's in the game.
The Woodchucks will head down to La Crosse tomorrow for the first of a two-game series with the Loggers. Saturday and Sunday's games will be the final two for the Woodchucks on the 2013 season.
About Wisconsin Woodchucks
The Wisconsin Woodchucks are a member of the prestigious Northwoods League, a collegiate summer baseball league featuring top talent from across the country. Located in Wausau, Wis., the Woodchucks play at historic Athletic Park, and are annually among the top-ranked teams nationally in per-game attendance. More information about the Wisconsin Woodchucks is available at www.woodchucks.com, or by calling 715-845-5055.