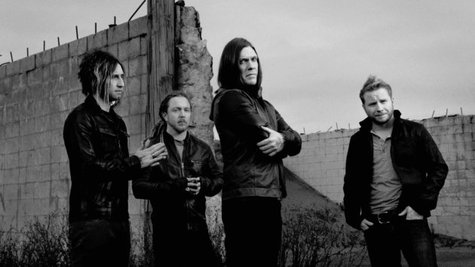 Shinedown has always been a fan of performing acoustic tracks during their live shows and peppering their albums with them, but now drummer Barry Kerch has revealed that the group is planning to release a full-length acoustic album.
"People like hearing acoustic things from us," he tells Cleveland.com . "Lots of bands can't strip themselves down and take away all the bells and whistles. But we're four musicians who can play our instruments."
Kerch says that their fans will choose the track list for the release, and hinted that it may include covers of Pearl Jam 's "Black" or Adele 's "Someone Like You." A release date for the acoustic set has yet to be announced.
Shinedown is gearing up to headline the Carnival of Madness Tour, which kicks off Sunday at the Stone Pony Summer Stage in Asbury Park, NJ. Other bands set to rock the main stage on that outing include Papa Roach , Skillet , In This Moment and We as Human . Visit CarnivalOfMadness.com to view the full itinerary.
Copyright 2013 ABC News Radio