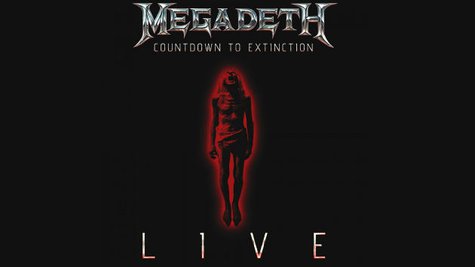 Last year, Megadeth celebrated the 20th anniversary of the release of their fifth studio album, Countdown to Extinction , with a massive U.S. tour. Now, the group has announced that they'll release a live CD/DVD set, Countdown to Extinction: Live , which documents one of their concerts on that outing.
Recorded at the Fox Theatre in Los Angeles on December 7, 2012, the package features Megadeth ripping through their entire Countdown to Extinction release, as well as performances of "Holy Wars" and "Hangar 18" from 1990's Rust in Peace; "Peace Sells," from 1986's Peace Sells... But Who's Buying? ; and "Trust," from 1997's Cryptic Writings , among others.
Countdown to Extinction: Live will be released on September 24. While the set will be available separately on CD, DVD and digital formats, a deluxe package featuring both the CD and Blu-ray of the release also will be offered.
Here is the track list for Countdown to Extinction: Live :
"Intro"
"Trust"
"Hangar 18"
"Public Enemy"
"Skin o' My Teeth"
"Symphony of Destruction"
"Architecture of Aggression"
"Foreclosure of a Dream"
"Sweating Bullets"
"This Was My Life"
"Countdown to Extinction"
"High Speed Dirt"
"Psychotron"
"Captive Honour"
"Ashes in Your Mouth"
"She Wolf"
"Peace Sells"
"Holy Wars...The Punishment Due"
"Outro"
Copyright 2013 ABC News Radio