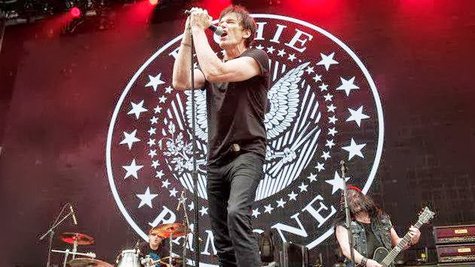 At age 55, one-time Ramones drummer Richie Ramone is set to release his first-ever solo album, Entitled. The project will be available as a digital download on September 17 and then as a CD and vinyl LP on October 8. The veteran punk rocker not only keeps the pounding beat on the album, but also handles lead vocals.
Fans can get a taste of what Entitled sounds like by visiting Billboard.com , which is featuring an exclusive stream of a song called "Criminal." The track showcases Ramone's gravelly voice, and also features driving power chords and drumming that's more than a little reminiscent of Richie's old band.
Accompanying Ramone on Entitled are lead guitarist Tommy Bolan , bassist Clare Misstake and drummer/rhythm guitarist Ben Reagan . Richie tells Billboard about the project, "We put a lot of work in on creating this and we're really proud of it."
Ramone is planning on hitting the road soon to support Entitled , although according to his official website , no dates have been confirmed yet.
Richie played with the Ramones from 1983 until 1987 and was featured on three of the band's studio albums -- 1984's Too Tough to Die , 1986's Animal Boy and 1987's Halfway to Sanity . He also wrote several songs for the group, including the staple "Somebody Put Something in My Drink."
Copyright 2013 ABC News Radio