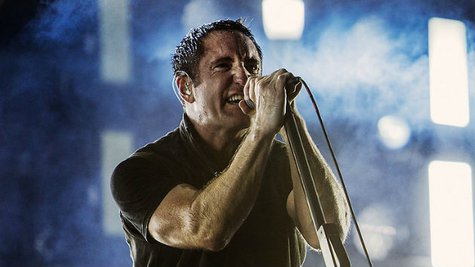 If you attended one of Nine Inch Nails ' concerts on their Tension 2013 Tour, frontman Trent Reznor wants you to know that a lot of hard work went into putting that show together. In a new episode of Vevo's Tour Exposed series, Reznor says the massive stage show, which features high-tech video screens and a variety of special effects, isn't the only thing he hopes fans will experience during the gigs.
"There's a large portion of the show that's very forward thinking and isn't really about…the new technology we have on stage…but it's much more about the music, and it's more about the connection," says the singer in the clip. "I think I've been able to push the boundaries of what's expected at a Nine Inch Nails show, still deliver spectacle, and there's still an element of aggression, and that feels good to me, that's what I wanted to achieve."
The documentary short also features rehearsal footage, interviews with the show's stage crew, a couple of backup singers and The Who touring bassist Pino Palladino , who played with the band on the tour.
Copyright 2013 ABC News Radio