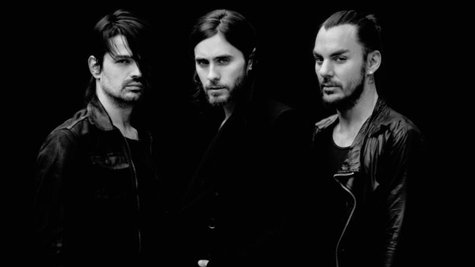 Back in October, 30 Seconds to Mars posted a short film to promote their single "City of Angels," which featured interview clips of the band and a number of renowned artists, actors and athletes telling stories about living in Los Angeles. Now, frontman Jared Leto reveals he has plans to create more clips to go along with the extended video for the track.
"I always pictured [the "City of Angels" video] as more of an art installation, where you have this one singular body of work and then several companion pieces that expanded upon a theme, an idea or a person," he tells ABC News Radio. "So right now we have six companion pieces."
The singer says he's been collaborating with Vevo to create a unique visual experience for the forthcoming content. "We've been actually working on a way to present that's as much more, like, if you would walk into a gallery, and you had the opportunity to sit in different locations, and kind of experience a singular project, but different aspects of it," he notes. "So depending on what room you're in, you'd be able to expand upon an idea or a thought and then move on to the next."
Leto adds the new content will likely feature additional footage he recorded with a number of celebs featured in the "City of Angels" video, including rapper Kanye West , pop star Selena Gomez and actors James Franco , Lindsay Lohan , Juliette Lewis , Olivia Wilde , Alan Cumming and Corey Feldman . "We have such great stories and people really shared such an incredible part of their lives with us that we have a tremendous amount of material that we're working on and we're excited to get out there," he explains.
A release date for the new material has yet to be announced.
Copyright 2013 ABC News Radio