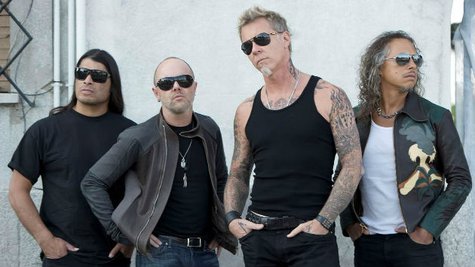 Lars Ulrich has some reservations about Metallica 's upcoming summer European trek, Metallica by Request, during which fans will get to choose the band's setlist for each show. In a recent interview with BBC Radio 1 , the drummer says while he's a little bit nervous about the songs the fans will select for the run, he's happy to let someone else take the heat for determining what the band will play at each show.
"It certainly gives me butterflies in the stomach in a good way and I think it should be a lot of fun for the fans," he notes. "This at least put a stop to the whining about the setlist because it's basically the fans that's picking it."
Ulrich adds he's looking forward to unleashing a new song during the band's European sets, although he admits the band still hasn't chosen the song they'll be playing. "Since 2014 is basically about the next Metallica record and we're so excited about writing and getting all that off the ground that it only is right to bring a new song out there," he explains. "Obviously we haven't quite figured out what that's gonna be but as we get a little closer hopefully we'll come up with something cool."
The Metallica by Request tour will keep the band overseas from May 28 through July 11, and will make stops in a number of countries including Germany, England, Finland, Italy, Switzerland, Poland, Sweden, Denmark and Austria.
Copyright 2013 ABC News Radio