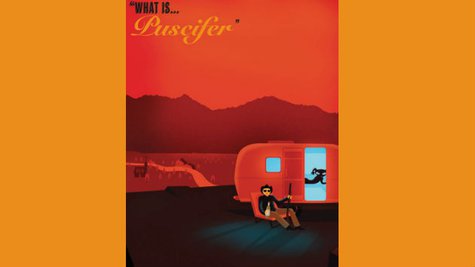 Puscifer has tapped Breaking Bad actor Bob Odenkirk to help them sell the group's recently-released concert/sketch comedy film, What Is…
The band recently posted a one-minute video on their YouTube channel , which features Odenkirk asking the question, "What is Puscifer?" before speculating that "It's part of a lady, right? Men have it, too? Is it something you should have checked out?" Wearing a blonde wig and mustache, frontman Maynard James Keenan answers Odenkirk by announcing, "We are punk rock! I will f**kin' mosh all over you!"
This isn't the first time Puscifer and Odenkirk have worked together: the band was featured in a skit on HBO's Mr. Show , a 90s comedy sketch program that starred Odenkirk and comedian David Cross .
You'll be able to experience Puscifer's music and humor both when they appear at Keenan's 50th birthday concert, which will take place on May 10 at The Greek Theatre in Los Angeles, CA. The show will also feature performances by Keenan's other band, A Perfect Circle , as well as a set by Failure , who are reuniting especially for the event.
Copyright 2013 ABC News Radio