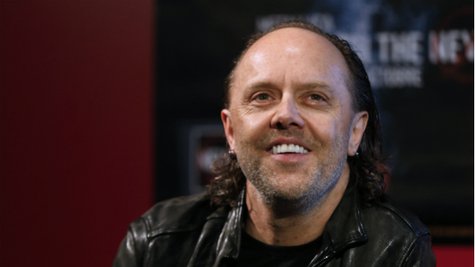 During a Press Association interview in the fall promoting the 3D concert film Through the Never , Metallica drummer Lars Ulrich mentioned that time was running out for him to make fun of his over-50 band mates.
The joking officially stops today as Ulrich reaches the big five-oh mark himself.
In that same interview, Ulrich seemed quite comfortable leaving his 40s behind.
"I'm quite happy growing older, and with the experiences and with everything else that comes along with it, I'm fine," he said. "Fifty doesn't scare me. Bring it on."
Metallica's 50-and-older club also includes guitarist Kirk Hammett , who celebrated his 50th in 2012, and frontman James Hetfield , who reached that milestone in August. Bassist Rob Trujillo will turn 50 next October.
Prior to that, the band will hit Europe for its Metallica by Request tour. Here is the full list of dates:
5/28 -- Helsinki, Finland, Beach Sonisphere
5/30 -- Stockholm, Sweden, Gardet Royal Park
6/1 -- Oslo, Norway, Valle Hoven Sonisphere
6/3 -- Horsens, Denmark, Gaol
6/4 -- Hamburg, Germany, Imtech Arena Sonisphere
6/5-8 -- Nürburgring, Germany, Rock Am Ring
6/6-9 -- Nuremberg, Germany, Rock Im Park
6/9 -- Landgraaf, Netherlands, Landgraaf Pink Pop
7/1 -- Rome, Italy, Rock In Rome Sonisphere
7/3 -- Werchter, Belgium, Rock Werchter
7/4 -- Basel, Switzerland, St. Jakobspark Sonisphere
7/6 -- Knebworth, England, Knebworth Park Sonisphere
7/8 -- Prague, Czech Republic, Aerodrome Festival
7/9 -- Vienna, Austria, Krieau Rocks
7/11 -- Warsaw, Poland, National Stadium Sonisphere
Copyright 2013 ABC News Radio