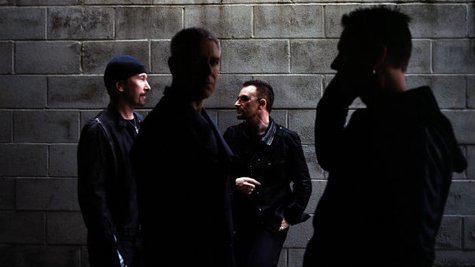 U2 will be presented with the Sonny Bono Visionary Award at the 25th Annual Palm Springs International Film Festival's 2014 Awards Gala, taking place this Saturday, January 4, at California's Palm Springs Convention Center. According to a statement from the festival's chairman, Harold Matzner , the Irish rockers will be honored "for their unparalleled humanitarian work against extreme poverty, disease and social injustice."
Matzner explained, "We normally present the Sonny Bono Visionary Award to a director, but for our 25th anniversary we wanted to take the occasion to celebrate U2, a visionary group and the world's premier rock band."
He also points out in the statement that the band's "latest song 'Ordinary Love' from the film Mandela: Long Walk to Freedom is an ode to Nelson Mandela , who had such a powerful impact on our world, and a man whom the band worked with in the fight against HIV/AIDS in Africa."
"Ordinary Love" has received best-song nominations for a Critics' Choice Movie Award and Golden Globe Award, and it's also eligible for an Academy Award nod.
In related news, a new official video to accompany the recently released version of "Ordinary Love" produced by Adele and Paul McCartney collaborator Paul Epworth has premiered on U2.com and U2's official YouTube channel . The clip includes similar stop-motion footage to that featured in the lyrics video that debuted in November, but also boasts new scenes starring U2's four members.
Copyright 2013 ABC News Radio