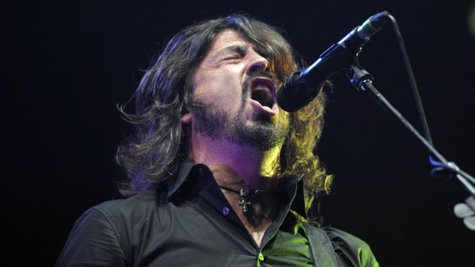 Dave Grohl will be making a couple of TV appearances while he's in New York City next week to promote his recently-released documentary, Sound City . The Foo Fighters frontman will drop by Comedy Central's The Colbert Report on Wednesday, which is the same day he'll be putting on a concert at the Hammerstein Ballroom with the Sound City Players , a band comprised of some of the artists who appear in the movie.
Accompanying Grohl for the concert will be all the members of the Foo Fighters, former Nirvana bassist Krist Novoselic , Queens of the Stone Age multi-instrumentalist Alain Johannes , Cheap Trick guitarist Rick Nielsen , Fear frontman Lee Ving , Rage Against the Machine drummer Brad Wilk , John Fogerty , Fleetwood Mac 's Stevie Nicks , Rick Springfield and producer Chris Goss .
The next day, Grohl will bring his Sound City Players to CBS' The Late Show with David Letterman to perform on the program.
Grohl has said that he plans on staging Sound City Players concerts all over the world in the coming months. More dates for the supergroup are expected to be announced soon.
Copyright 2013 ABC News Radio