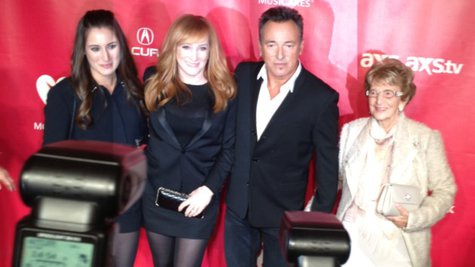 A star-studded tribute to Bruce Springsteen was held Friday night in downtown Los Angeles ahead of the Grammy Awards. "The Boss" was named MusiCares Person of the Year, not just for his artistic accomplishments, but because of his philanthropy as well.
Among the musicians and actors walking the red carpet were Katy Perry , director Judd Apatow, Jimmy Kimmel , Sting , Jackson Browne , Emmylou Harris , Conan O'Brien , Faith Hill , R&B star John Legend , Johnny Rzeznik of the Goo Goo Dolls , Natalie Maines of the Dixie Chicks , and Bonnie Raitt . Springsteen, the guest of honor, arrived arm-in-arm with his wife Patti Scialfa , daughter Jessica Rae , and mother Adele Ann .
New Jersey native and #1 Springsteen fan Jon Stewart hosted the benefit, and joked of the night's honoree, "There's nothing that he would rather do than come to Los Angeles, California, and put on a suit and hear people talk about him like he is dead."
The annual Person of the Year gala raises money for MusiCares, a foundation started by the Recording Academy to help musicians in times of need. Springsteen acknowledged this in his speech, saying, to huge laughs, "Thank you MusiCares, for taking care of musicians, because we are bad with our money!"
He added, laughing, "We spend it too freely and on too many stupid things! We drink it away, we do drugs, we love too many, and the wrong, people! We are the wrong people!"
Part of the show included artists from all genres and generations -- from Elton John to Tim McGraw to Mumford & Sons -- putting their own spin on Springsteen tunes. Springsteen loved the different takes on his music, noting that Neil Young , who performed "Born in the U.S.A," "made me sound like the Sex Pistols ," while John Legend, who sang "Dancing in the Dark" accompanying himself on piano, "made me sound like Gershwin."
After listening to his own music all night, Springsteen then took the stage and brought down the house with a mini five-song set. He performed "We Take Care of Our Own," "Death To My Hometown," "Thunder Road," "Born To Run," and, appropriately for such a glorious evening, "Glory Days."
Here's the rundown of who played what Friday night:
Alabama Shakes -- "Adam Raised a Cain"
Patti Smith –- "Because The Night"
Natalie Maines and Ben Harper -- "Atlantic City"
Ken Casey of The Dropkick Murphys –- "American Land"
Zac Brown and Mavis Staples -– "My City Of Ruins"
Mumford And Sons -– "I'm on Fire"
Jackson Browne with Tom Morello -- "American Skin (41 Shots)"
Emmylou Harris –- "My Hometown"
Kenny Chesney -– "One Step Up"
Elton John –- "Streets of Philadelphia"
Juanes –- "Hungry Heart"
Tim McGraw and Faith Hill -- "Tougher Than The Rest"
Tom Morello and Jim James -- "The Ghost of Tom Joad"
John Legend –- "Dancing In The Dark"
Sting –- "Lonesome Day"
Neil Young -– "Born In The U.S.A."
Copyright 2013 ABC News Radio