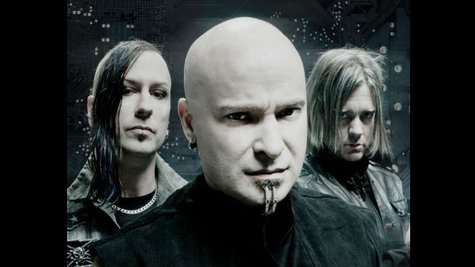 Disturbed may be on hiatus, but frontman David Draiman has been busy working on tracks for the debut album for Device , his new side project with former Filter guitarist Geno Lenardo , Evanescence drummer Will Hunt and Dope guitarist Virus . The singer says that he enjoyed the creative freedom that he experienced while writing tracks for the self-titled release, which is due on April 9.
"It's been a wonderful experience," he tells Austraila's Heavy Magazine . "With as much respect as I've had from the people I've been working with, with as much great input I've had from the people I've been working with, it's really been an amazing new experience and process."
Device's debut album includes appearances by Avenged Sevenfold frontman M. Shadows , System of a Down singer Serj Tankian , Rage Against the Machine guitarist Tom Morello , Halestorm frontwoman Lzzy Hale , Black Sabbath bassist Geezer Butler and former Deep Purple bassist Glenn Hughes . Draiman notes that idea to include a number of special guests on the album came together organically.
"They are good friends of mine and we finally found an opportunity to do something together," he explains. "For a number of these guys, it literally just came up in dinner conversation. We'd been toying with the idea of doing something together for years."
While Device has yet to announce a proper tour to promote their upcoming debut album, the band will be performing at a number of festivals this summer, including Wisconsin's Rock Fest, Oklahoma's Rocklahoma festival, North Carolina's Carolina Rebellion, and the inaugural Fort Rock Fest in Florida.
Copyright 2013 ABC News Radio