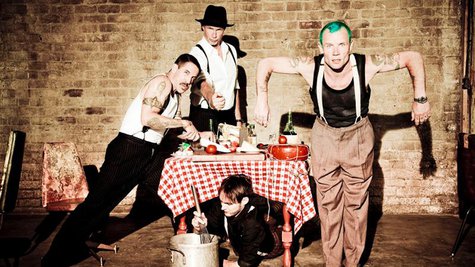 Red Hot Chili Peppers will be one of the headliners for the second edition of Metallica 's Orion Music + More Festival this summer, and drummer Chad Smith says that to get the Chili Peppers on the roster, Metallica made them an offer they couldn't refuse.
"They said if you come and play the festival, we will come and play a [charity] show for [bassist] Flea 's Silverlake Conservatory of Music, which is a non-profit music school," he tells ABC News Radio. "It's a beautiful thing [and] it's a great school, so it's a win-win."
Smith says he's looking forward to performing at the fest, which will take place June 8-9 at Belle Isle Park in Detroit, MI, near Smith's hometown. "I grew up in Michigan outside of Detroit," he says. "It's a great place to play music…and my mother still lives in the house I grew up in, so she's really happy. She gets to see me and then I'll bring my family in and she can see the kids and…[we'll] make it a good weekend."
In other Smith news, the drummer is headed to Washington D.C. next month to join members of the National Association of Music Merchants to lobby Congress about the importance of funding comprehensive music education in schools. Smith will be speaking to NAMM delegates and guests at a dinner at the U.S. Capitol on March 19, and will be in meetings on Capitol Hill with members of Congress on March 20.
Copyright 2013 ABC News Radio