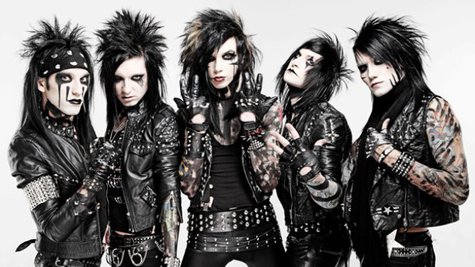 Black Veil Brides frontman Andy Biersack wasn't expecting to turn the band's third studio album, Wretched and Divine: The Story of the Wild Ones , into a concept album. The singer says that the inspiration for the release, which arrives in stores on Tuesday, came to him during a long flight from Germany to Los Angeles.
"[I] started writing this story that had been something I'd been thinking about for a while," he tells ABC News Radio. "I literally just wrote this short story that kind of was about this group of leaders among this fringe society and they were kind of fighting against this all-seeing, all-knowing kind of unified church government bad guy."
Biersack adds that he chose "Wretched and Divine" as the title track for the album because it reflects one of his core personal beliefs. "I've always been a big believer that everybody is sort of inherently good and everybody has the ability to do bad," he explains. "I think that your surroundings and things that you're affected by tend to make you go one way or the other. I think we all have the capability of being both wretched and divine."
In addition to making Wretched and Divine: The Story of the Wild Ones , Black Veil Brides has also created a film based on the release, titled Legion of the Black , which features eight tracks from the record. While the flick has had a few select screenings in the past few weeks, Biersack says he hopes it will be released on DVD sometime this summer.
Copyright 2013 ABC News Radio